LG G2 vs Sony Xperia Z1 in early assessment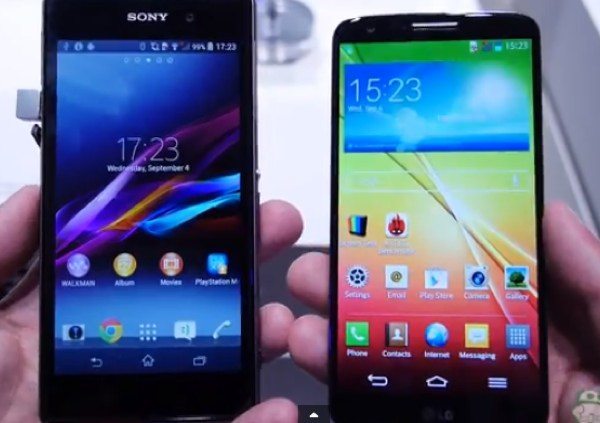 Two of the most recent high-end Android smartphones to be officially announced are the LG G2 and the Sony Xperia Z1. These are hugely notable devices and close competition to each other. Today we want to take a look at the LG G2 vs. Sony Xperia Z1, in an early assessment.
The LG G2 release is rolling out now, while the Sony Xperia Z1 (aka Honami) will be available some time later this month. They both have top-notch specs and features, and it may be difficult for potential purchasers to choose between them. The image below this story shows the LG G2 on the right and Sony Xperia Z1 to the left.
The Xperia Z1 is a camera-centric smartphone likely to appeal to keen smartphone photographers. However, the camera set-up of the LG G2 is also extremely impressive, so this is not the only factor to consider.
As the Xperia Z1 has not long been made official there hasn't been much chance to take a good look at the device. However the 4-miinute YouTube video that we have embedded below this story was taken at the recent IFA Berlin event, and it gives an early look at the two devices together.
The video starts with a look at the design of the phones before discussing the displays, processors, and other specs. The camera abilities of each are briefly examined before the comparison moves on to the software.
What becomes clear is that these two handsets both have plenty to offer and they will be battling it out for the same sector of the smartphone market. If you want to see more details of both we have previously posted many articles on specs and more. Simply head to the LG G2 or Sony Xperia Z1 posts at the links.
If you check out the video below, we'd really appreciate your comments about the LG G2 vs. Sony Xperia Z1. Is either of these phones likely to be your next device purchase? If so, which one do you favor, and why?