LG G2 vs Moto X, specs superiority shows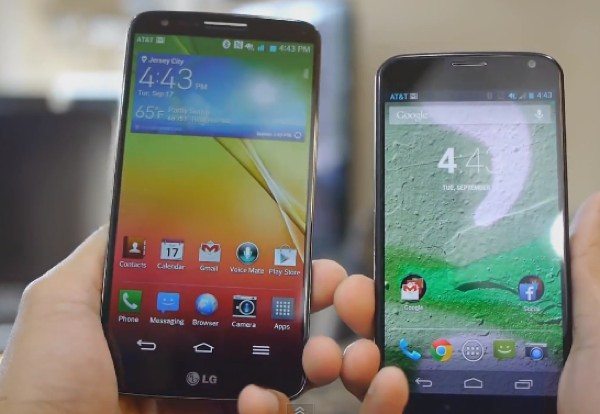 The LG G2 and Motorola Moto X are two recently released smartphones that are attracting a lot of attention. Both are Android handsets and those who are considering purchasing a new smartphone may be thinking of one of these. Hence we're looking at the LG G2 vs. Moto X in a comparison, where the specs superiority of one really shows.
We'll give you a brief rundown on specs first starting with the LG G2, which is powered by a 2.26GHz Qualcomm Snapdragon 800 quad-core processor and has a 5.2-inch True HD-IPS + LCD display with 1920 x 1080 resolution and 424 ppi. It has 2GB of RAM and 32GB of internal storage (non-expandable), a 13-megapixel rear camera, 2.1-megapixel front-facer, and 3000 mAh battery. It runs the Android 4.2.2 Jelly Bean OS.
The Moto X has a 1.7GHz Qualcomm Snapdragon Pro dual-core processor, a 4.7-inch AMOLED display with 1280 x 720 resolution and 312 ppi, 2GB of RAM and 16 or 32GB of internal memory (non-expandable). It also carries a 10-megapixel rear camera, 2-megapixel front-facing camera, a 2200 mAh battery and it also runs Android 4.2.2.
When looking at the specs, it's pretty simple to see that the LG G2 wins very clearly. However, both phones are very decent as shown in the 12-minute YouTube video that you can see below this story.
The video is a good observation of what both phones have to offer. It begins with noting that the LG G2 may be the "specs beast of the two," whereas although the Moto X has more modest specs it also has a "cool customizable design," for something a bit different.
It goes on to look at the designs, which will give you a good idea of how they compare and which you prefer appearance-wise. You then see details of the hardware and displays, user interfaces and features, camera capabilities, call quality, battery performance, and price.
We're not giving away the conclusion too much by saying that specs-wise the LG G2 is a clear winner, as that was evident before we even looked at the video. However, the Moto X shouldn't be dismissed, as it has the unique customization option for the design and is a phone that's simple to operate.
Are you thinking of purchasing either the LG G2 or the Moto X? Are the specs your major concern, or are you more swayed by the design of a handset and other factors? Let us know by sending your comments.