Sony Xperia Z1 unlocked bootloader camera warning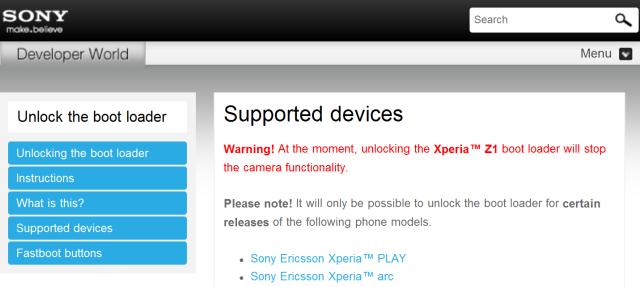 One of the main attractions to the Android platform over iOS for a lot of users is the ability to customize the software running on the devices more easily, but today we have news of a Sony Xperia Z1 unlocked bootloader camera warning.
The Sony Xperia Z1 has only just started to become available in some regions but the device has caught the eye of many fans of the platform. Now the smartphone manufacturer has issued a warning for those early adopters of the device thinking of unlocking the bootloader.
This will be done by those that wish to install a custom ROM onto the device but Sony has warned that doing this will make the camera inoperative, which is a commendable move by the company. Sony hasn't given further details about the issue or if and when it plans to address the problem.
Users that will still decide to unlock the bootloader must make sure they back up the handsets TA partition that has Sony's DRM keys, so they can restore it at a later date to relock the bootloader again and get the camera working once more, which is one of the standout features of the smartphone in the first place.
You would have thought that Sony will have a team of developers working on a fix for the issue though, and hopefully it will be available soon.
Do you plan to get the Sony Xperia Z1?
Source: Xperia Blog.