iOS 7 unavailable for downloading on iPhone 5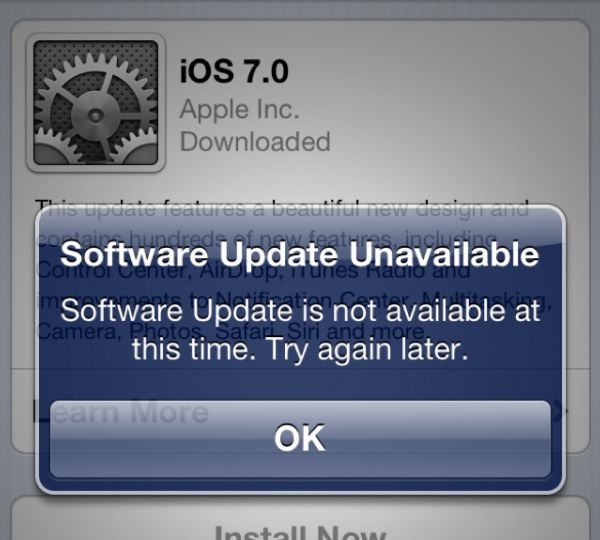 Since iOS 7 public release went live on Wednesday it seems many Apple owners are still having the iOS 7 unavailable for downloading with errors occurring.
The new operating system went live on Wednesday and Apple users are experiencing problems when trying to download and install it, a few are getting error messages. We have been getting emails by Phones Review readers stating that the error messages they were getting said "Software Update Unavailable", the description itself said "Software Update is not available at this time. Try again later."
We all have to remember this is the norm when it comes to installing a new operating system on the day its released, millions of Apple device owners will be trying to install the update at the same time and the servers will just slow right down, in return not allowing many to download and install.
I decided to install today, which is two days later after iOS 7 was released. After just a mere 5 minutes the download and install went smoothly with no errors at all. So for future reference it makes sense to NOT install on the day of release, patience is all that is needed for a smooth install.
This is the download process underway, the install went smoothly for us.

The new iOS 7 provides a whole new design with new improvements to Safari, Notification Center, AirDrop, Camera, Photos, Siri and the new features called Control Center and iTunes Radio.
When the iPhone 5S and 5C are in the hands of the public these will have iOS 7 pre-installed, what ever country you are in we would love to know if the download went smoothly for you or if you are still trying.
Are you still having the iOS 7 unavailable for downloading issues?