Android 4.3 voice search vs iOS 7 Siri, video compares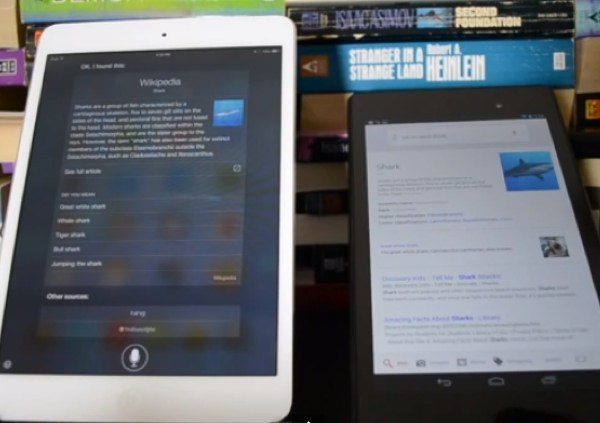 Following the public release of iOS 7 last week, Apple iOS device users have had a chance to get used to the updated operating system. Android users have their own version of Siri in the form of voice search, and today we have an Android 4.3 voice search vs. iOS 7 Siri video to show you.
Siri was first launched with the iPhone 4S, and it has been further enhanced with the latest upgrade to the operating system. At the time Siri appeared in 2011 the Google Android platform also had voice actions, but in a more limited form. However in 2012 the Google Now search redesign brought improved voice recognition to Android.
Both iOS and Google voice features have been gradually enriched, and we think the video that we have embedded below this story is an interesting look at how Siri and Android voice search now compare. The six-minute video is a voice control review of iOS 7 Siri and Android 4.3 voice search.
The operating systems being reviewed are being used on the iPad mini and the Google Nexus 7 tablets. When iOS 7 Siri and Android 4.3 are asked by voice to send an email, the difference in the way they each implement the command is noted. When asked to play a piece of music Google's Android is marginally slower.
Siri on iOS 7 is also able to adjust settings, which so far the Android equivalent cannot do, and this is shown by asking the two devices to switch on Bluetooth. Maybe this is a function that will be added to Android soon.
However, when pulling up data although both platforms perform well, Android has the edge. There are definitely Siri improvements with iOS 7, such as Wikipedia integration and the ability to change settings. On the other hand Android is deemed better at natural language, and its voice integration has been even further improved with the new Moto X.
We think the video below clearly shows what the stronger points are for both Siri on iOS 7 and Android 4.3 voice search, but what do you think? Would you rather use Siri or Android voice search? Let us know with your comments.
Source: ExtremeTech