iOS 7.0.2 OTA update, jailbreakers steer clear: Update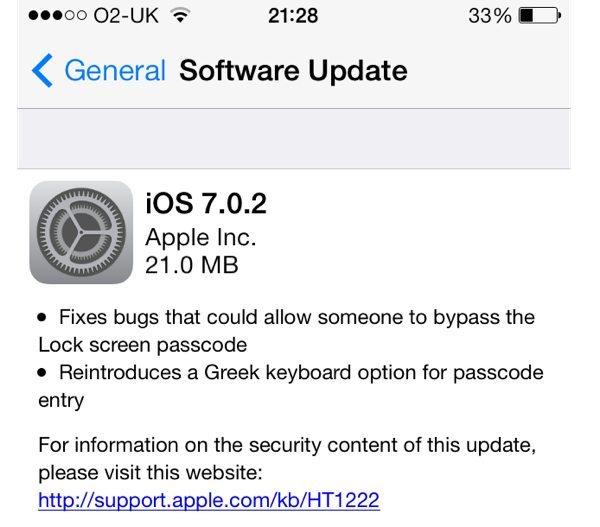 Apple has just made available the new iOS 7.0.2 OTA update, which you can download and install right now. This new update fixes bugs that could allow someone to bypass the lock screen passcode, as well as introducing a Greek keyboard option for passcode entry.
The over-the-air update build 11A501 is now available on all iDevices that supports iOS 7 including the iPhone, iPad and iPod Touch. There was a security vulnerability recently that with a few compound taps on the iOS lock screen that allowed access to the devices apps, such as photos, messages, email etc.
Jailbreakers should steer clear of iOS 7 and all updates, if you have a jailbroken iPhone you should not download and install iOS 7.0.2. For more information about the new 7.0.2 update please visit Apple here.
Go into your device Settings > General > Software Update, then just click agree to start the download and install process. I installed this on my iPhone 5 and the update is 21MB is size; many iPhone users are now waiting for iOS 7.1.
We have seen many comments come in about the new iOS 7.1 update, and one question pops up more than most that says, "Will iOS 7.1 bring dynamic wallpaper development?"
Will you be updating to iOS 7.0.2 or will you just stay on 7.0?
UPDATE: iOS 7.0.2 safe for jailbreaks says MuscleNerd, please read more about this here.