iOS 7.0.2 safe for jailbreaks says MuscleNerd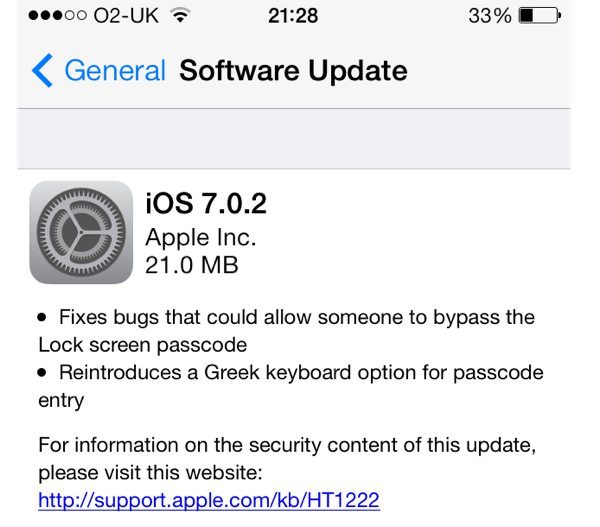 It is not often we write about jailbreaking news, but we wanted to clarify with our readers that iOS 7.0.2 is safe for future jailbreaks according to MuscleNerd.
Yesterday we reported that iOS 7.0.2 update went live and that jailbreakers should steer clear, well this can now be laid to rest because MuscleNerd tweeted yesterday saying that iOS 7.0.2 is not a jailbreak vector so updating is fine.
The update that went live last night is ready to download and install, which fixes the lock screen bypass issue.
Unusual level of detail in 7.0.2 security update notice http://t.co/ZWDFtzdT5J (for PR reasons?). It's not a JB vector so updating is fine.

— MuscleNerd (@MuscleNerd) September 26, 2013
Many iDevice owners decided that they was not going to install iOS 7.0.2, iDB mentions that if you are still on iOS 6.x and jailbroken you should stay away from any iOS 7 updates. They state that this only applies to those that have lost their jailbreaks or never had one from the beginning, if you are hoping for an iOS 7 jailbreak in the future then you should follow the sources advice.
iDB tried to install the iOS 7.0.2 OTA update onto their jailbroken iPhone and it got stuck into recovery mode, now they are having to restore its iPhone using iTunes. They have lost a few bits and pieces because they did not backup, they also report that TinyUmbrella did not help them get out of recovery mode.
In the end the hosts file on their Mac were edited to comment out the gs.apple.com entry, once this was done they could restore properly. Have you installed iOS 7.0.2, if you have please let us know what you think so far?