iOS 7 Tech Talks offers in-depth guidance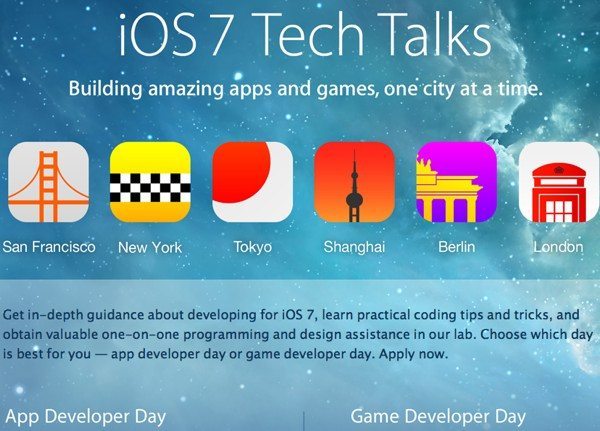 Some of you may have heard a few months ago that Apple was planning iOS 7 Tech Talks to offer in-depth guidance about the OS update. A series of these technical sessions are set to take place in various cities across the world, and Apple has now announced the schedule.
These sessions will give both app and game developers a chance to meet Apple engineers in a more informal setting than WWDC and experience hands-on labs. The talks are only open to those who are iOS Developer Program or iOS Developer Enterprise Program members, and attendee selections will be randomly made from those qualified.
Those who apply to attend the Apple Tech Talks will only be able to go on one of the two days in each city, either on a game developer day or an app developer day. In-depth guidance will be offered along with the opportunity to learn tips and tricks for coding.
The first sessions in each city will look at the many new technologies of iOS 7, such as dynamic motion, iBeacon, new multitasking APIs and more, and show how to take advantage of them by creating iOS 7 friendly apps. Other sessions will inform about iOS 7 gaming technologies including Game Center improvements, Game Controllers, and OpenGL ES support.
As well as this, engineers will talk about how best to use the performance power offered by 64-bit computing and the new A7 processor of the iPhone 5S. Another session will give information about how some apps get to be featured on the App Store.
The iOS 7 Tech Talks begin in San Francisco on October 8 and 9 before moving on to New York on October 15 and 16, Tokyo on November 6 and 7, Shanghai on November 12 and 13, Berlin on December 12 and 13 and finally London on December 17 and 18. The first day in each city will be the app developer day, while game developer talks are on the second days.
Submissions for the Tech Talks are only open until 10am PDT tomorrow Friday September 27, and those qualified to attend can apply at this Apple Developer page. All presentations will be in English but if you're attending in Tokyo or Shanghai there will be simultaneous translation to Japanese or Mandarin respectively.
For those Registered Apple Developers unable to attend the iOS 7 Tech Talks, Apple will post videos of the presentations shortly after the final event takes place. Will you be one of the many developers applying to attend one of these Tech Talk events for iOS 7?