iPhone 5S, 5C to help China mobile growth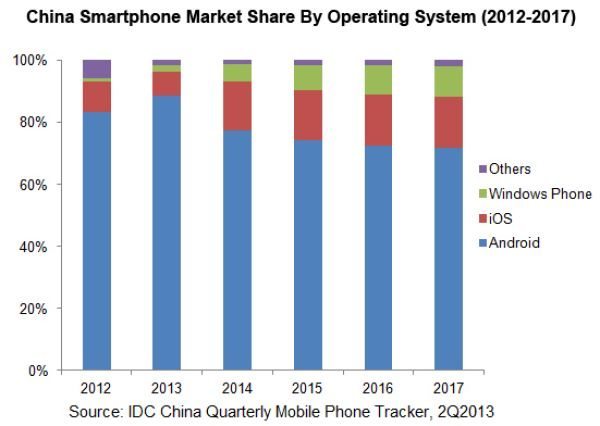 Since the new carrier agreement with China Mobile and the introduction of the iPhone 5C, reports suggest this will help the China mobile growth. IDC reports that Chinese smartphone shipments could be well over 450 million in 2014 with 120 million of them supporting 4G, and 32 million supporting China Mobile's TD-LTE.
If you look at the chart below it clearly shows the iOS market share getting bigger, Apple's co-operation with China Mobile and the release of the cheap iPhone 5C will see a rapid growth for China. An iPhone 5C China Mobile launch will increase Apple's lead in the Chinese market, and then all it needs is the iPhone 5S China Mobile release.
IDC believes that the iPhone market share in China will double in 2014 compared to 2013, the competition is fierce at the moment and in China we can see that Android OS dominates the China smartphone market share, but iOS could close the gap.
The combination of a new iPhones, the new carrier agreement with China Mobile and Apple, iOS shipments will only but grow. Slow iPhone 5 sales has seen Apple's market share drop fast, but there is hope the iPhone 5S and 5C will improve this.
The iPhone 5S is outselling the iPhone 5C by a large margin according to reports. So we can see the iPhone 5S doing very indeed, but China Mobile will launch the iPhone 5C first.
The iPhone 5S outsold the 5C by a large margin; it was three times more popular on its opening weekend. Android dominates the Chinese market but it will reach its peak at some point, leaving iOS more room.
Please read the full IDC report here.