Micromax Canvas 5 dream features imagined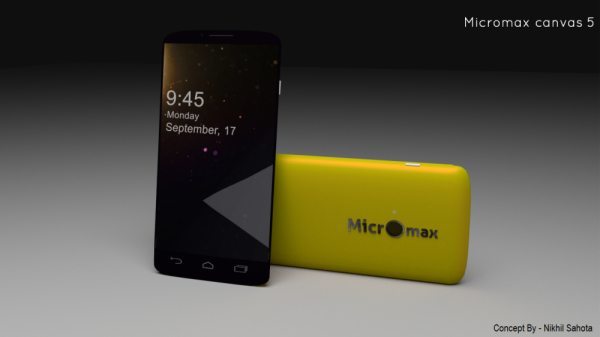 So many concept smartphones are coming in thick and fast, and one of them sparking a major interest in the Micromax Canvas 5.
When the Micromax Canvas 4 surfaced the Internet went mad, this was a handset that hit trends all over the world and was searched for on a daily basis for many months. So where can Micromax got with the Canvas 5?
A brand new Micromax Canvas 5 concept has hit the Web thanks to Nikhil Sahota and his rendering, this one is said to come featuring the new upcoming Android 4.4 KitKat operating system.
The Micromax Canvas 5 design shown below looks fantastic, and those that still have a little love for the Canvas 4 will fall head over heels if this concept was ever to release. We are loving the style of this concept shown below, the yellow back casing and design looks amazing. Makes us wonder if Micromax should release the Canvas 5 in multiple color variants.
Here are the Micromax Canvas 5 dream features imagined by Nikhil Sahota, this concept includes Android 4.4 KitKat OS, 5-inch 1080p display with thin bezels on the sides, 2GB RAM, 20MP camera on the rear featuring optical image stabilization, as well as a Qualcomm Snapdragon 800 CPU, Adreno 330 GPU and a 3000mAh battery.
Would you consider buying the Micromax Canvas 5 if it had specs like the ones shown here?