Android 5.0 concept is highly plausible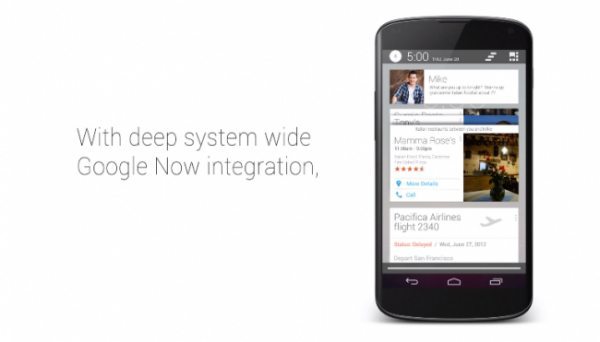 Android 4.4 KitKat has already been mentioned a few times and we are all intrigued, KitKat is releasing this month of October but this has not stopped the new Android 5.0 concept video going live.
The Android 5.0 concept is a mockup by none other than Craig Tuttle; this video is of pure brilliance even right down to the music. The next version of Android is of course 4.4 KitKat and if you watch the video below you will see some stunning new features, one that sticks out for us has to be the new multitasking windows.
Google Now is centre of attention here as well, system wide integration and advanced predictive search mechanism is of pure bliss. Phones Review believes that the new Android 5.5 is highly plausible and can all become reality, there is nothing in the video that suggests stupidity and unrealistic.
Do you like the sound of seeing things inside the Google Now app rather than the regular notification pull down?
The user interface looks a lot better, so much lighter than the dark one we are used to. Really love the look of the multitasking stacks; Android 5.0 also adds the power of Google everywhere within the phone. Please watch the video below and let us know what you think — Would you welcome Android 5.0 with open arms?