iPhone 5S, 5C Boost Mobile release, high price probability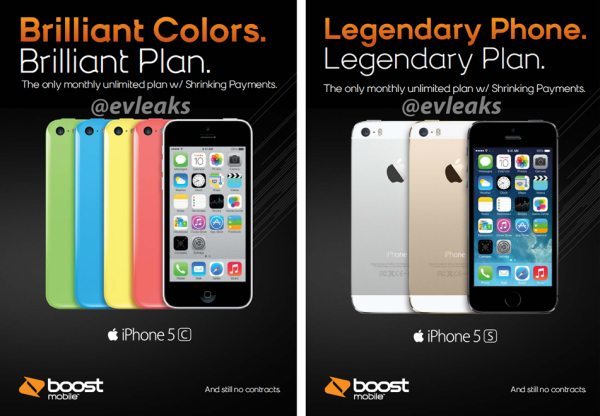 Even though iPhone 5S and 5C stocks are limited at the moment it seems Boost Mobile maybe sticking these two new smartphones fairly soon according to a photos posted onto Twitter.
@evleaks have added a photo of an advert to its Twitter profile showing the iPhone 5S and 5C with Boost Mobile, so does this mean Boost Mobile will release the two new Apple smartphones this month?
Boost Mobile consumers will be very happy indeed, the iPhone 5S key features include a 4-inch Retina display with a resolution of 1136 x 640 pixels, fingerprint scanner, 64-bit Apple A7 processor, 8-megapixel iSight camera and so much more. The iPhone 5C is basically the same as the iPhone 5 but in plastic and with many new colors, 4-inch display and the A6 processor.
We all know that Boost Mobile does not offer contract subsidies, so we expect the iPhone 5S and 5C coming in with a high price probability. They will offer the handsets with the normal no-contract and unlimited plans; there will be great competition with the likes of Cricket and Virgin Mobile.
As soon as we hear more with the official news we will notify you here, and of course on our social networks.
Are you going to buy the iPhone 5S or 5C with Boot Mobile?