Rogers alerts provides money saving offers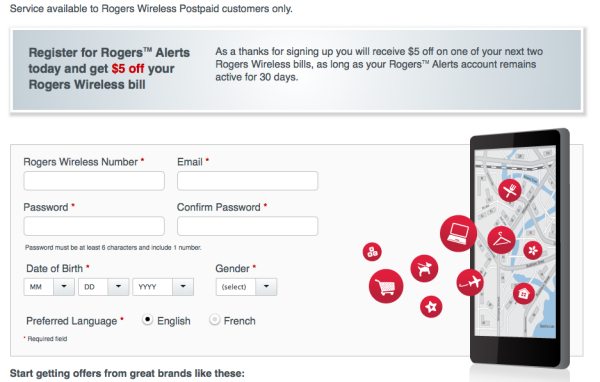 We all remember when we used to cut out coupons from magazines and newspapers for amazing deals where you can get money off a product; there are thousands that are still doing this. But, you can now try out the new Rogers Alerts program to get money saving offers sent directly to your smartphone.
Rogers Alerts provides smartphone Rogers wireless users with location-based mobile offers from retailers, this can all be set up with ease and once it has it will send alerts to your smartphone based on geofence technology. This means when you are in a certain area it will bring up offers from stores around that location you are in.
A text message will be sent to you, there are many retailers offering discounts and with the use of Rogers Alerts you can get these discounts from retailers such as Second Cup, Sears Canada, Pizza Hut Canada, A&W, Future Shop and many more.
If you wish to start using the new Rogers Alerts just register over on rogersalerts.ca and follow the on-screen instructions to receive special offers.
In celebration of the new launch Rogers Wireless customers can send a text 'RALERTS' to 5050, then just sign up for the new Rogers Alerts and you will receive $5 off one of your next two Rogers Wireless bills, this is only for a limited number.
Are you using Rogers Alerts yet?