Talking Angela app bad for kids debate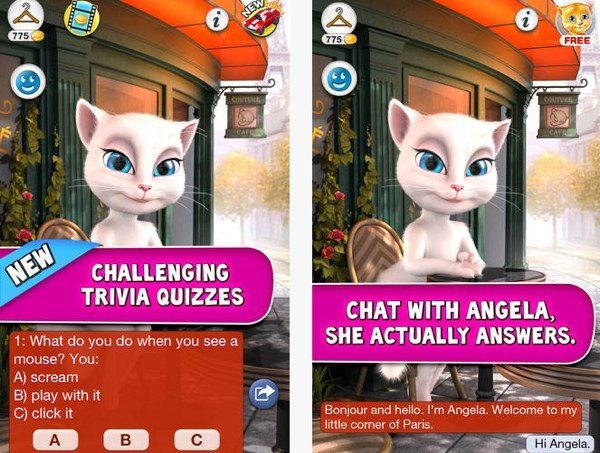 We always like to bring readers news on apps and one app that has caused a certain amount of consternation is the Talking Angela app. This is popular with kids but seems to divide opinion and has caused a fair amount of debate. Today we're asking whether the Talking Angela app is bad for kids.
The idea of the app surrounds a cat in Paris that likes to be treated as a princess. Kids can really get a lot of enjoyment out of looking after Angela and making her happy, and there's no doubt that plenty of Talking Angela users have got a lot of pleasure from the app.
Talking Angela requires microphone access so that kids can talk with Angela, who can then answer back. However, this has been a concern to many parents and there have been plenty of warnings not to use the app. Some people have urged parents to delete the app amid claims that the app has asked children inappropriate questions.
Some warnings also said that the app was secretly taking pictures of children and went as far as saying the app is dangerous. Others though said that these were fake warnings and people were scaremongering because there was nothing wrong with Talking Angela.
We first discussed this earlier this year and checked the app out for ourselves, but couldn't find anything that was of particular concern. It was clear from comments that that some kids really loved the app, but there were also some parents who urged that the app should be deleted because the content was unsuitable for children.
If you want to check out the app for yourself then the iOS app is compatible with iPhone, iPod touch and iPad running iOS 5.0 or later. It's free and available at iTunes here. The Android version can be found at Google Play here and is compatible with devices running Android 2.3 or later.
What we'd like to know is whether readers still feel the Talking Angela app is okay to download and install on their kids devices considering the two sides of the debate? Maybe your kids really love this app and you've found nothing wrong with it? Alternatively, maybe you feel that the Talking Angela app is inappropriate for children to use? Perhaps you feel that these apps should no longer be made available? Let us have your comments on this.