Android 4.3.1 update rolling out, 2013 Nexus 7 LTE first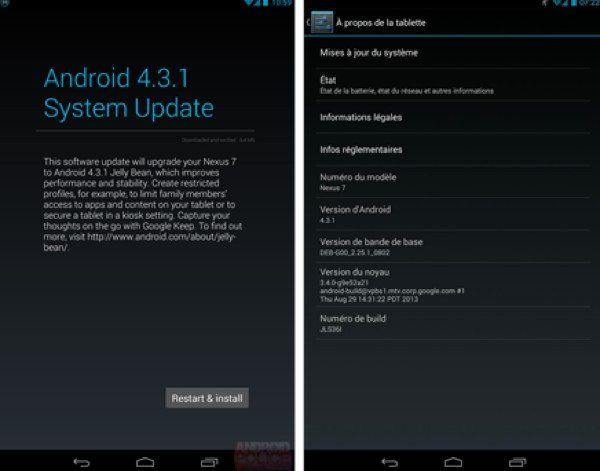 There's news today that is likely to interest Android device enthusiasts, especially those who own a Nexus device. Shortly after Android 4.3 Jelly Bean was made available, an Android 4.3.1 update is now starting to roll out. Owners of the 2013 Nexus 7 LTE tablet are receiving it first.
This looks like a minor update and some owners of the Nexus 7 2 LTE model are already reporting that they have now received the unannounced update. Those who have already installed the update see the software version on their device change to Android 4.3.1.
Google has previously launched some fixes and bug patches for Android 4.3 without furthering the version number, so it's a little bit of a mystery as to why this has happened on this latest occasion especially considering Android 4.4 KitKat is not far away. There are likely to be further stability fixes with the Android 4.3.1 update, but there may be other changes that haven't yet come to light.
Android 4.3.1 is now being pushed out as an OTA (over-the-air) update, and if your Nexus 7 2 LTE hasn't yet received the update it's likely to be coming very soon. The size of the update is 9.42MB. It would be really interesting to hear from readers who may have already received the Android 4.3.1 update on the 2013 Nexus 7 LTE.
Have you spotted anything with the update aside from bug fixes? We'd also like you to let us know if you have another Nexus device that receives the update soon? Do send your comments about this latest update.
Source: Android Police