Moto X Moto Maker customization release for Verizon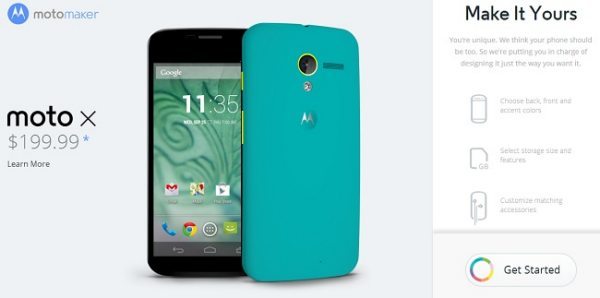 Moto Maker was exclusive to AT&T so that customers could customize their shiny new Motorola Moto X smartphone, but Verizon customers will be able to enjoy it as well.
The Moto X smartphone was unveiled in August and is fully customizable, and the Moto Maker tool will no longer be AT&T exclusive. The customizing tool for the Moto X is coming to Verizon according to @evleaks and the release date has been set for November 11th, 2013.
Everyone loves the ability to fully customize their handset and Moto Maker gives that little extra so that you can add more of your own needs to the Moto X, it allows you to choose different colors for the front and back of the handset. Moto Maker also allows customers to customize storage size and features, the ability to customize matching accessories and a few other bits.
Just a quick recap, the Moto X smartphone features a 4.7-inch AMOLED display (resolution of 1280 x 720 pixels), 2GB RAM, 2200 mAh battery, Android 4.2.2 Jelly Bean, dual-core Snapdragon S4 Pro chipset, 10-megapixel ClearPixel camera on the rear and Motorola X8 Mobile Computing System, plus much more.
Verizon has not provided an official announcement as of yet, but as soon as they do we will notify you. Hopefully Motorola will open Moto Maker everywhere before Christmas; this would be the right way to go.