Nokia Lumia 925 camera vs Galaxy Note 3 video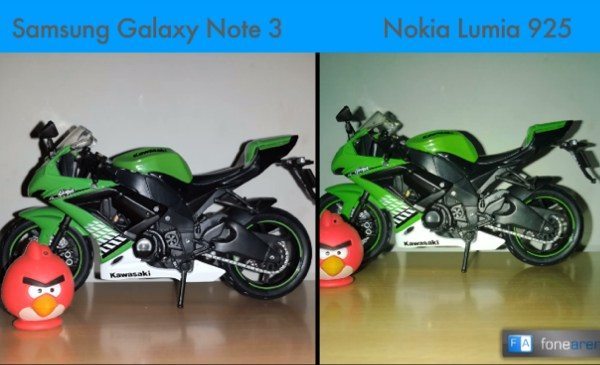 The Samsung Galaxy Note 3 is a notable Android smartphone while the Nokia Lumia 925 is a Windows Phone handset. Both have a place in the market and a lot has been said about their respective camera capabilities. Today we're looking at a Nokia Lumia 925 camera vs. Samsung Galaxy Note 3 video.
These smartphones both have excellent camera set-ups, so before you view the video we'll run through their offerings in this respect. The Nokia Lumia 925 has an 8-megapixel rear camera with Carl Zeiss optics, optical image stabilization, autofocus, dual-LED flash, PureView technology, 1/3" sensor size and 1080p @30fps video capture with video stabilization. It also has a 1.3-megapixel front-facing camera.
The Samsung Galaxy Note 3 has a 13-megapixel rear camera, with autofocus, LED flash, simultaneous HD video and image recording, image stabilization, Dual Shot, panorama, HDR, and 2160p @30fps, 1080p @60fps or 1080p video capture depending on model. It also has a 2-megapixel front-facing camera.
As we all know, megapixels aren't everything, and both phones have plenty of features to add to their appeal. It you are simply wondering which phone takes the better images or video footage then the brief YouTube video that you can see below this story might help.
It shows the same camera shots taken with each camera side-by-side to give you an easy comparison of how they stand up against each other. It then goes on to show the same for video footage. We'll leave it to you to decide which one you think takes the best results, but we have our own ideas on that.
When you've taken a look at the video below we'd appreciate it if you'd give us your comments. Do you think the Nokia Lumia 925 or the Samsung Galaxy Note 3 gives the best image samples? Do you think the same applies to the video footage shown?