iPhone activation error reason and fix in iOS 7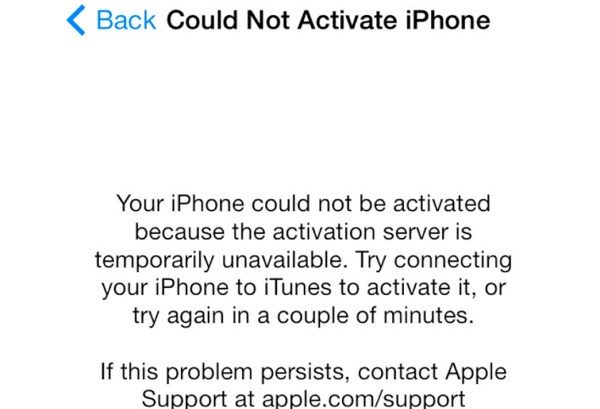 Apple's iOS 7 finally recently released to the public, and although some users are finding everything runs smoothly, others have not been so lucky. We have reported on various issues that have been affecting devices with iOS 7 and recently discussed an activation required problem. Now we have a little more about the iPhone activation error reason and a fix in iOS 7.
When we discussed this previously we had a huge amount of comments from readers whose devices were having the same issue, either on iOS 7 betas or with the public release. The problem seems to be affecting mostly iPhone 4S and iPhone 5 users and we told about an example of this error hitting an iPhone 4S. You can read all of the details about this problem and the difficulties facing some iPhone users here.
We went on to phone Apple and we were informed that the beta servers are shut down after one month, meaning that the iPhone 4S in question cannot now be used and is pretty much bricked. If you have made an old backup using DFU mode you can restore to this, but of course that doesn't always apply.
With 6 million developers using iOS 7 betas this accounts for the large numbers of people having this issue, but there are also users who are facing this issue with no beta installed. In a nutshell though, the iPhone activation error in iOS 7 seems to be due to beta servers being shut down.
We have heard of one quick loophole whereby an emergency phone call is still allowed when an iPhone activation is required. If you try this and clock contacts quickly and end the call you may manage to access your contacts. However we really don't recommend this, as obviously if you don't stop the call in time you'll end up dialing the emergency services and maybe stopping other genuine callers getting through.
The good news is that we have heard of a fix for this issue that we hope will work for the majority of iPhones affected. First you need to ensure you have the latest version of iTunes, currently 11.1.1. If you don't have this and you are a Mac user you can check for updates in the Mac App Store. Alternatively if you are using a Windows PC you can check for updates in iTunes.
Then you need to switch off Find My iPhone. Because your iPhone is bricked you'll need to log into iCloud.com, head to the Find My iPhone service, and then remove your iPhone. Next you need to download the right iOS 7 firmware file. You can download iOS 7.0.2 at this link. When you have downloaded it you should save the file to your desktop.
Finally you need to open the latest version of iTunes and connect your iPhone. You'll see an iPhone summary window and you then need to hit Check for Update while holding down the alt/option key on Mac or alternatively the Shift key in Windows. Once this is done you'll see a pop up window that allows you to select the firmware file you previously downloaded.
If you follow these steps you should find that your device is then updated, but if you don't have a backup you will lose your data, contacts, etc. If iTunes doesn't recognize the iPhone that you've plugged in you should perform a Recovery Mode Restore, and you can see exactly how to do that at this Apple Support page.
So there you have it, a reason for the iPhone activation error in iOS 7, and hopefully a fix that will work for your affected device. We'd really like to hear from you if you are facing the "could not activate iPhone" problem. Did you find the above fix helpful? We'd appreciate your comments on this.