Nokia Asha 503 pre-release leak looks nice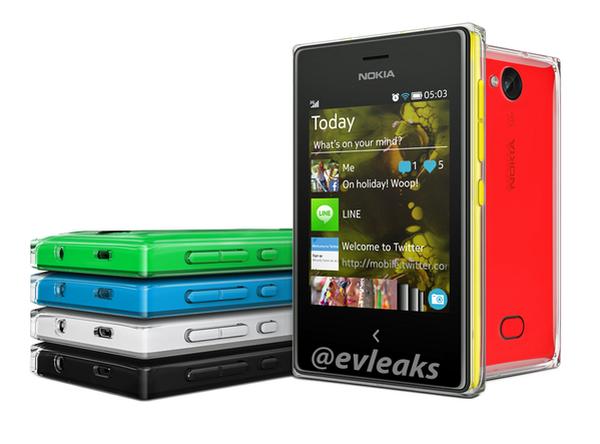 While the main focus of the company recently has been its Windows Phone running Lumia range of handsets, Nokia hasn't forgotten its biggest markets by offering more affordable hardware with some good features. Now the Nokia Asha 503 looks nice in a pre-release image leak.
The Nokia Asha range of smartphones has proven to be popular among consumers that want a more affordable handset, and now notorious and often reliable tipster's evleaks has provided the image that you can see on this page of the Nokia Asha 503.
We have heard about the possibility of such a device being in the pipeline as far back as August, which is obviously a press image of the upcoming smartphone. The device will have a touchscreen display, and from the screen shot it is obvious that Twitter will be one of the pre-installed applications on the phone.
You can also see that the rear camera is paired with a LED flash and the handset looks set to come in a number of colour choices that include black, cyan, green, white, and yellow. The device is expected to be one of many new handsets that will be show cased at an event later this month on the 22nd.
Do you like the look of the Nokia Asha 503?