Samsung Galaxy Note 3 Developer Edition for Verizon outed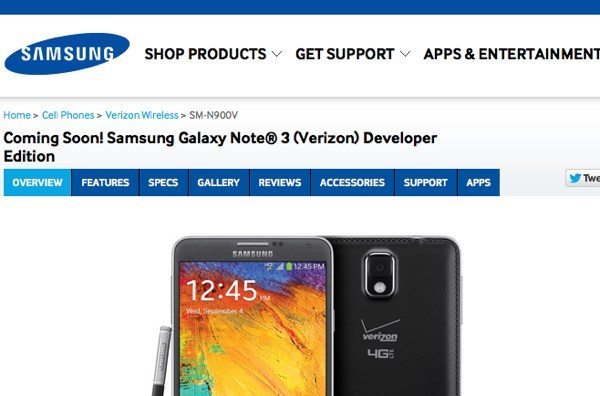 The Samsung Galaxy Note 3 smartphone is now available on Verizon, and many people will no doubt be picking one up this weekend. However, some might want to think twice as it appears that a Samsung Galaxy Note 3 Developer Edition for Verizon has been outed.
Verizon Developer Editions of phones are often sought after by those who like tinkering with and customizing their Android devices, especially as Verizon is in the habit of locking bootloaders on the devices it offers. Hence, plenty of people may have been waiting hopefully to see if a Developer Edition of the Note 3 was Verizon-bound.
It could be that some were even expecting a Verizon Developer Edition of the Galaxy Note 3, taking into account that a Developer Galaxy S4 version launched on Verizon a few months ago. Now it looks as though their wishes have been granted following a spot of the Note 3 on the US Samsung website.
The Samsung site now shows a listing for the Samsung Galaxy Note 3 (Verizon) Developer Edition. Although this has not been officially announced it does look virtually cut-and-dried that this is on the way. There is no indication yet of when this may release so a bit of patience might be required, although the listing does at least contain the words "coming soon."
You can see the screenshot of the entry in the image below. If you like the sound of a Galaxy Note 3 with an unlocked bootloader then you need to bear in mind that the Developer Editions are not usually provided at a subsidized contract price, so you'll need to cough up the full price upfront.
As soon as we hear more about the Verizon Galaxy Note 3 Developer Edition we'll be sure to bring readers the news. In the meantime we'd like to know if you are planning to put off purchasing the Samsung Galaxy Note 3 on Verizon now and wait for the Developer Edition instead?