Sony Xperia Haze brings high level security specs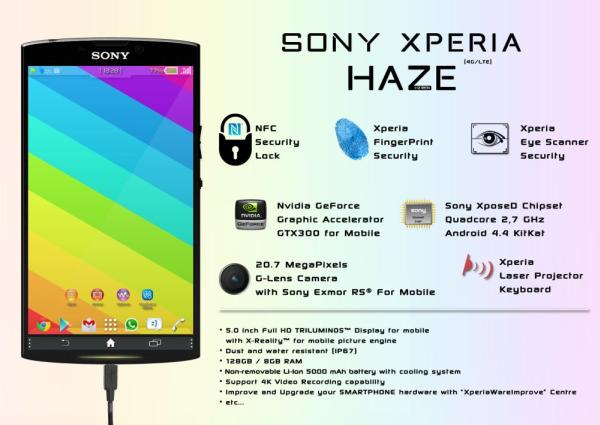 Sony has been raising its game recently in the smartphone world launching some sought after handsets, and today we have the Sony Xperia Haze design for you that brings some high level security specs and features to the table.
We often bring you concept phone ideas that can either be a bit farfetched or a future possibility, and the image that you can see on this page is the work of Oky Aditya and is called the Sony Xperia Haze.
The device features both a fingerprint scanner along with an eye scanner that has been recently rumoured to be coming to the Samsung Galaxy S5. We have a 5-inch Full HD Triluminos touchscreen display powered by an in house Sony XposeD quad core processor that is clocked at 2.7GHz along with 8GB of RAM, and we also get the Nvidia GeForce graphics accelerator for those PlayStation games.
There is a remarkable 128GB of on board storage along with a 20.7-megapixel rear facing camera with G Lens, and supplying the juice is a water cooled 5,000 mAh battery and the smartphone has support for 4K video capture. The operating system is listed as Android 4.4 KitKat but given these specs you would have thought it would come with the next big Android OS overhaul instead.
While a lot of these specifications will probably be a few years away yet they are at least something that could become available on day.
Do you like this concept design?
Source: Concept Phones.