Galaxy Note 3 battery life results disappoint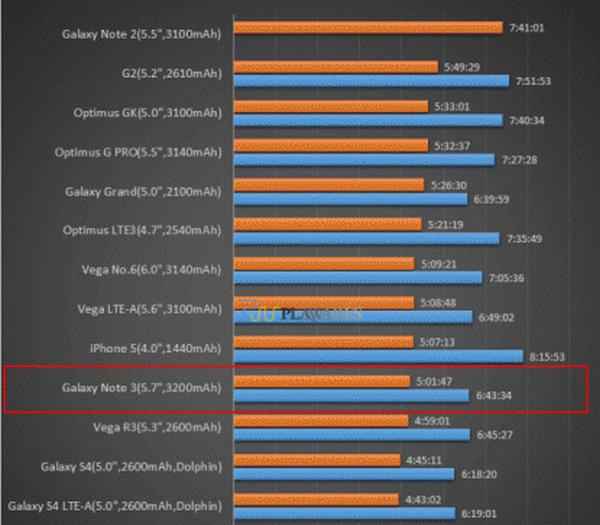 The Samsung Galaxy Note 2 has always been loved by owners for its amazing battery life, which considering the size of the handset is pretty impressive. Now you would have thought newer would mean better but it doesn't seem that way as the Samsung Galaxy Note 3 battery life results disappoint.
Samsungs new Note features a huge 3,200 mAh battery which compares to the model that it is replacing which has a 3,100 mAh power pack. Now a Korean website has run some battery tests for a number of handsets testing battery life in three categories, Internet browsing, 3D gaming, and video playback.
For video playback the handset came out top with an impressive time of almost 15 hours for its best results or 14 hours at its lowest. The test was done with the handset set at full brightness and then a lower setting, and compared to the Note 2 it achieved 3 hours more and more than double compared to the iPhone 5.
With 3D gaming the Galaxy Note 3 again did well achieving just below four hours only beaten by the Note 2 and Optimus GK, with the hardware tested using the GL Benchmark suite and the Egypt HD Benchmark.
But it is when you look at web browsing the handset didn't fare so well only achieving an average time of under 6 hours, while last year's Galaxy Note 2 smashed this with almost 8 hours of web browsing.
The handset was even beat by the likes of the iPhone 5 and LG G2 and Samsung's own Galaxy Grand. Web browsing will be one of the things that the Samsung Galaxy Note 3 will be used most for, but it has to be remembered that future firmware updates by Samsung could easily rectify battery life results.
Owners may not be experiencing poor battery life but many will be hoping that Samsung soon provides a permanent fix for the rebooting problem we reported about recently.
How have you found the battery life on the Galaxy Note 3?
Source: Playwares (translated).