Best iPhone 5S, 5C, screen protector option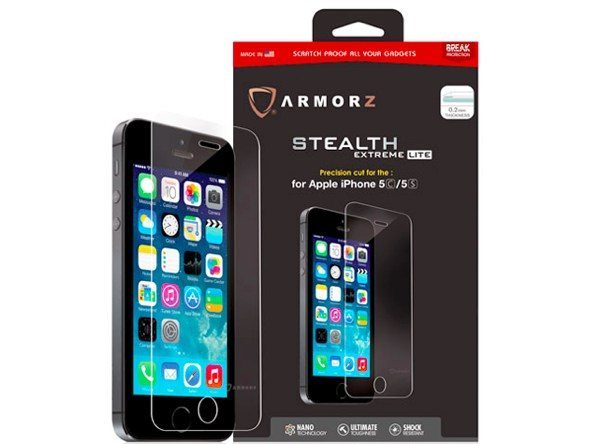 If you have just purchased the Apple iPhone 5S or 5C or if you want to keep your iPhone 5 looking good then you may be interested in an accessory that we have details of today. The Armorz Stealth Extreme Lite is likely to be one of the best iPhone 5S, 5C screen protector options out there.
This is no ordinary screen protector, which is reflected in the price. However, if you have spent a lot of money on a new iPhone then you may feel it's worth investing a little more than usual in a screen protector. This new solution from Armorz might well tempt you in that case.
The Extreme Lite is a new tempered glass screen cover that will be available shortly. Many of us like to use the extra protection available from a screen protector and usually these are very inexpensive items made of plastic. However, the Armorz Extreme Lite is a Tempered Glass screen protector for the Apple iPhone 5, 5C and 5S, priced at $34.95.
For that amount of cash you'd expect a lot from this screen protector and the Stealth Extreme Lite claims to offer full display coverage with no bubbling or lifting, and an oleophobic coating so that fingerprints aren't so noticeable. It should also give unrivaled protection against scratches and abrasions.
The Stealth Extreme Lite is only 0.2mm thick and will give your iPhone display tough protection. It has been chemically strengthened to exceed the hardness of steel, is able to withstand harsh environments and is also compatible with most types of iPhone case.
You can see more about the Armorz Stealth Extreme Lite at this Armorz product page where you will also find Amazon purchase links. However, at present this product has yet to go on sale, although it should be available very soon. If you have an iPhone 5S and are also thinking about buying an good all-round protective case then you may also want to check out the Spigen Tough Armor case.
Do you think it's worth paying $35 to protect the screen of your iPhone 5S, 5C or 5? Let us know with your comments.