Samsung Galaxy S3 beats iPhone 5S, 5C in touchscreen tests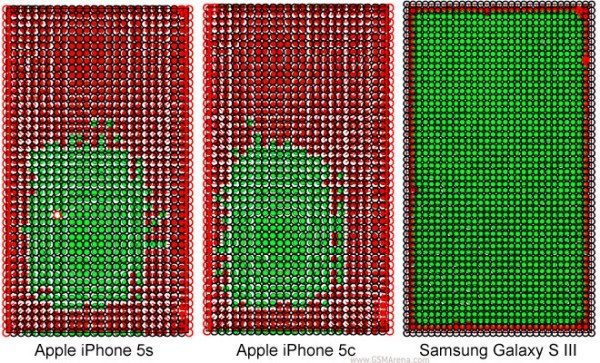 The iPhone 5S and 5C recently released in the usual blaze of publicity and a lot has been said about the various specs and features of the new iPhones. The iPhone 5S has picked up some very decent reviews so you may be surprised to hear that the Samsung Galaxy S3 has beaten both the iPhone 5S and 5C in touchscreen accuracy tests.
Apple iPhone touchscreens have a reputation for good responsiveness but now their accuracy seems to be in question. One test automation company has been taking a look at the iPhone 5S and 5C touchscreens using their own precision-calibrated machines and noted that although both phones are quick to react to input, they are not as accurate at tracking finger movements as the Galaxy S3.
Bear in mind that the Galaxy S3 is not even this year's Samsung flagship and that seems to be quite a claim. The testing involved the use of a precision-calibrated robotic finger touching the screens at specific coordinates and comparing the results to the coordinates that the phone operating systems reported.
Results showed that while the iPhone 5S and 5C touchscreens were only accurate over a small part of the bottom of the screen, the Galaxy S3 was accurate over the entire display except around the edge.
GSM Arena reports on the testing that was carried out by OptoFidelity and the chart in the image below shows accurate reported coordinates to within one millimeter in green, while the red shows errors of above one millimeter. You can clearly see the better accuracy displayed on the Galaxy S3.
Even more interestingly when the accuracy chart was overlaid on the top row of the iPhone on-screen keyboard it was easy to see that the letters Q, O, and P should be harder to tap accurately. However, we have to say that this isn't an issue that we'd noticed and we haven't heard widespread reports suggesting this either.
Despite this we found these test results rather intriguing and this prompts us to ask readers about the accuracy of their iPhone touchscreens. Do you have the iPhone 5S or 5C? If so, have you ever noticed a lack of accuracy? Has this shown up on the areas of the on-screen keyboard mentioned above? Let us know with your comments.