Samsung Galaxy Golden India price and launch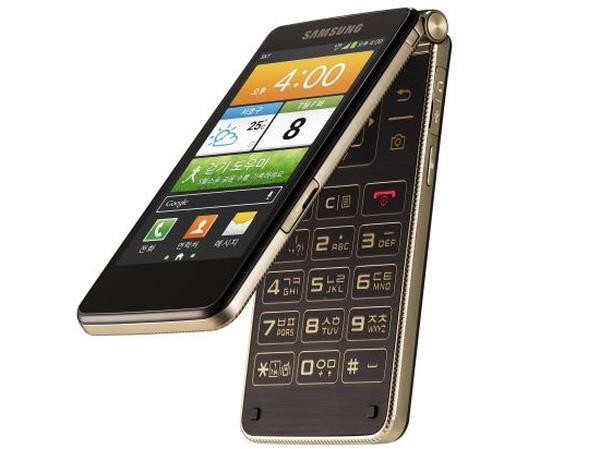 There was a time that clamshell or flip type mobile phones were all the rage until touchscreen displays become the norm more recently, but back in the summer Samsung launched a new device and the Samsung Galaxy Golden India price and launch has now been revealed.
We saw the Samsung Galaxy Golden appear back in August in South Korea, but now the handset has been launched in India with a price of Rs. 51,900. This may prove to be too high for many consumers considering the specifications of the handset are not exactly ground breaking.
To recap for your money we have a handset that has two 3.7-inch Super AMOLED touchscreen displays with one being on the inside and the other outside. These are powered by a dual core processor running at a clock speed of 1.7GHz coupled with 1.5GB of RAM.
This is running the Android 4.2 Jelly Bean operating system and camera wise Samsung has provided an 8-megapixrel main camera along with a 1.9-megapixel shooter around the front. There is also 16GB of on board storage along with an FM radio, Bluetooth, Wi-Fi, and GPS/AGPS.
The device has an Easy Mode that allows users to access and search applications more easily, and a Hidden Receiver feature allows users to take an incoming call without opening up the handset. The handset has also gone up for pre-order via online retailer Flipkart for Rs. 49,990.
Do you think the Samsung Galaxy Golden is overpriced?