Snapdragon BatteryGuru app update adds new features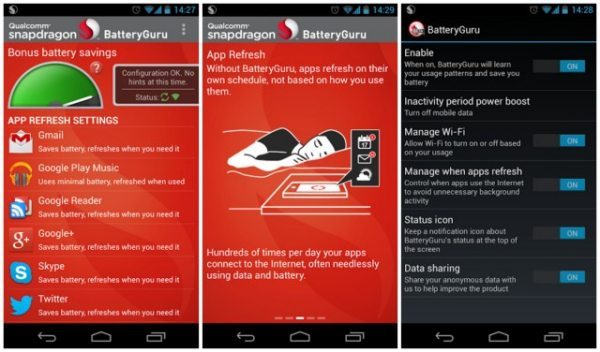 The Snapdragon BatteryGuru app just got even better with version 2.0. The updated version includes predictive charging, which leverages Quick Charge to tell users what are good times to charge based on their usage patterns.
For example, during the low usage period of the early afternoon, the app would now notify users to charge their phone in order to get through the predicted heavy activity of music streaming and GPS usage during their commute.
How the Snapdragon BatteryGuru app works
It learns how you use your Snapdragon powered smartphone to optimize your smartphone's battery life, it also provides intelligent notifications based on the user's usage patterns to recommend charging if the battery level will not last until the next regular charge time, and it also reminds users of their typical charge time to ensure that their regular charge is not missed.
The Snapdragon BatteryGuru app for Android users launched in May and has been downloaded more than 650,000 times. The app is an extension of the Qualcomm Snapdragon approach to battery performance, which puts strong processing functions into a highly power-efficient system on a chip to manage power, thereby enriching the mobile user experience.
So what's new then?
The new version 2.0 update now includes a new charge reminder feature, which will prompt users that they need to charge their phones when it is important. A new battery life remaining indicator has been added in the notification bar, which now shows users how many hours and minutes they have left, and the battery % is now shown periodically in the notification bar.
The Snapdragon BatteryGuru app is available globally on a vast majority of Snapdragon-powered smartphones from leading manufacturers in the Google Play store.