iPad Air specs bring massive benchmark improvement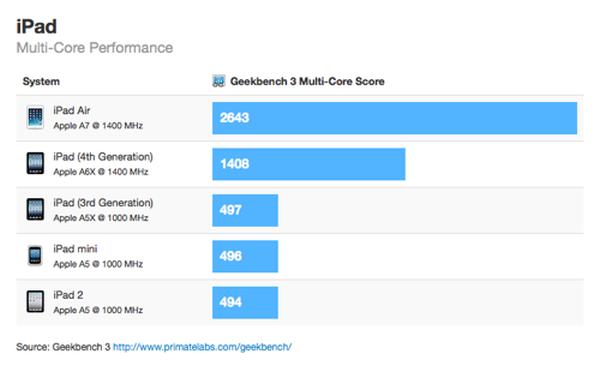 We are only a couple of days away now from the release of the new iPad Air which some are calling the best tablet PC yet from the company, and the iPad Air specs bring some massive benchmark improvements.
There will be many that are considering the iPad Air and ahead of its release some benchmark results are beginning to appear that show a marked performance increase compared to the iPad 4 and iPad 3.
The results have been complied by Primate Labs with iPad Air's using the Geekbench 3 benchmark comparing it to all Apple tablets that are compatible with iOS 7 going back as far as the iPad 2. As you can see from the results the new model packing the Apple A7 64-bit processor makes mince meat of its older siblings beating the iPad 4 by more than 80% for the multi core benchmark test.
Apple claimed at the iPad Air launch that the new A7 chip provides up to double the performance than the A6X processor which is certainly backed up by these tests, and it has been found that the A7 processor found inside the iPad Air is clocked at 1.4GHz which is 100MHz faster than the chip inside the iPhone 5S is running at.
This could be down to the larger battery inside the iPad or the extra cooling the larger form factor provides or a mixture of both. The iPad Air price is only $100 more expensive than the iPad 2 but is over 5 times faster.
It is thought that the new iPad mini's A7 processor will also be running at a clock speed of 1.4GHz as well.
Have you decided to purchase the iPad Air?