BlackBerry almost extinct as Android and Samsung surge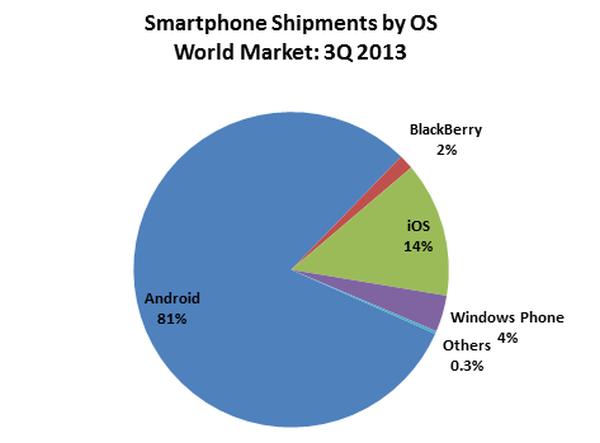 The smartphone market is highly competitive but there are certain manufacturers that are leading the way with a larger proportion of the pie, and now according to the latest market figures BlackBerry is almost extinct as Android and Samsung surge.
According to figures for smartphone shipments during the third quarter of this year by ABI Research 438 million smartphones were shipped with 244 million of these being smartphones. BlackBerry during this period managed only 1.5% of the global market share of smartphone sales while Samsung grew to 35%.
This is despite the availability of more BB10 hardware while Apple saw its market share stay at 14% but this figure will likely rise now that the two new iPhone models have been made available. Windows Phone continues to grow with 4% of the market which is 165% up year on year.
It is no surprise that Nokia is making up 95% of the Windows Phone shipments as the platform surges ahead of BlackBerry to claim third place, while Android is way out in front with 80.6% of the mobile market.
This is obviously helped by the number of different handsets available at various price points but whoever does eventually take over Canadian company BlackBerry has a lot of work to do to turn its ailing fortunes around.
Are you surprised at these figures?