GTA 5 iFruit app video review on Note 3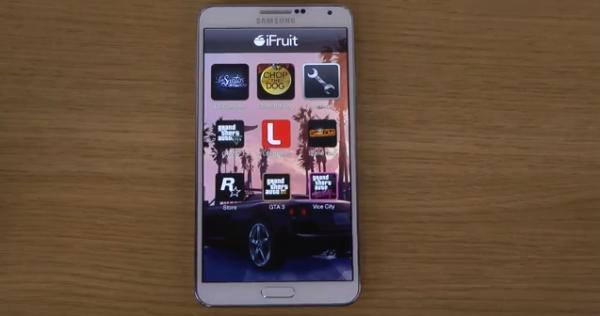 After the fifth instalment of the Grand Theft Auto franchise was released iOS users quickly got treated to the two companion apps that complemented the game. Now following its recent release onto the Android platform we have a GTA 5 iFruit app video review on the Samsung Galaxy Note 3.
The GTA iFruit app was finally released to the Google Play Store a couple of days ago over a month after the game first became available, and below this article we have a short video review of the app running on the Galaxy Note 3.
This app allows owners of the game do a few things such as customize your vehicle that is used in the game, and you can also do some mini games with Chop the dog to improve his behaviour in the GTA V game.
Social Club is a neat feature as it allows users to check their PlayStation or Xbox accounts as well as your progress, and you also have the RockStar Grand Theft Auto Store. The iFruit app was found to be slow and would not always work which is pretty poor considering the time it took to be released in the first place.
Check out the rest of the video and let us know if you have had any issues with it.