Essential iPad Air accessories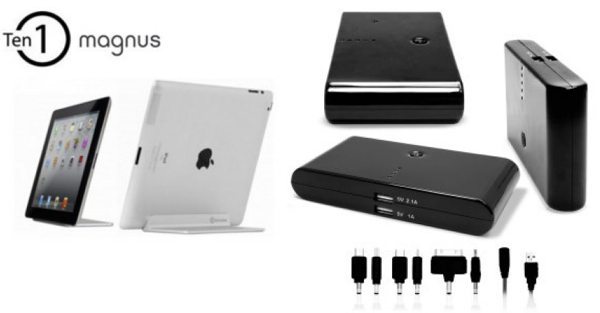 The new Apple iPad Air will be available to purchase on November 1st from £399, millions will be very happy when they get their hands on the new tablet.
Seeing as the new Apple tablet will be available as from tomorrow we thought it was time to share a few iPad Air accessories with you. Here is our top 5 we found via MobileFun — from 5 to 1 here are our choices.
5. BodyGuardz Carbon Fibre Armor Skin for iPad Air
Our first item today is this BodyGuardz Carbon Fibre Skin. It's a two-part product, made of a clear plastic screen protector for the front of the iPad and a rear cover with a carbon fibre look. That gives you iPad Mini a unique look and feel, while adding a bit of protection as well. The included iPad Air screen protector is also of a high quality, and with installed you should be protected from scratches.

4. Kit: High Power 15,000 mAh Dual USB Emergency Charger
The iPad series of Apple tablets has always had great battery life, achieved not through frugal use of power but instead through the inclusion of truly massive batteries. While iPads, up to and including the Air, have benefitted greatly from this approach, it's made later model iPads increasingly difficult to charge from an external battery, as you need both a 2.1A output and a considerable amount of power available.
To put it into perspective, the iPhone has a 1560 mAh battery, while the iPad 4 has a 11,560 mAh battery – you need precisely 10,000 mAh more to charge an iPad 4 fully than the iPhone 5S. Thankfully, we've got just the tool for the job – the Kit: High Power provides 15,000 mAh in a surprisingly small package, allowing the iPhone 5S to be charged 9.6x over, while the iPad can be charged 1.3x over.
3. Adonit Jot Pro Magnetic Stylus Pen
I really liked the Adonit Jot Pro for its highly accurate writing style, and the latest version looks to only improve the offering. This new stylus has been made magnetic, allowing it to easily clip onto your iPad Air when it's not in use. That's pretty handy if you're often drawing, as your stylus will always be on hand and ready to go, and not forgotten in your bag or on a table somewhere.
2. TenOne Magnus Magnetic Stand for iPad
Continuing our theme of magnetism, we have the TenOne Magnus. This is a uniquely minimal desk stand for the iPad Air, which utilises powerful nickel-plated neodymium magnets in order to securely hold your iPad in landscape or portrait orientations. The pure brushed aluminium matches perfectly with the iPad's look, so much so that the TenOne Magnus really feels like a first-party Apple accessory.

1. Cygnett Vintage Folio Case for iPad Air
This is my absolute favourite case for the iPad Air so far, offering a beautiful blend of contrasting colours and a very classical leather look. The case includes a cover that protects the screen of the Air while it's not in use, then flips backwards to become a built-in stand when you want to watch movies or play games at a convenient angle. With useful interior pockets and a soft microfibre lining inside, this is a case you can trust to take good care of your iPad Air
For the above iPad Air accessories just head on over to MobileFun and use their search box, all will be found there — have fun.