Motorola device checker for Android 4.4 KitKat update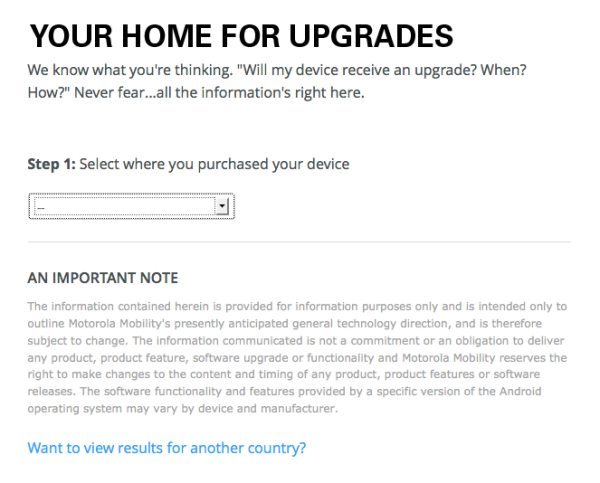 Android 4.4 KitKat will come pre-installed on the new LG Nexus 5, it will then be coming to a few other Nexus devices over the next few months.
Hello Android OEMs it is now your turn to shine, Motorola is first to step up to the plate with this online Motorola device checker.
When you visit the device checker here you will be asked to select where you purchased your device, once you have done this it will give you a list of Motorola devices.
Here is one example — I clicked on AT&T and then clicked on the Motorola Atrix HD photo, once I did this it gave me an onscreen message saying "This device is currently running Android 4.1.2 (Jelly Bean)" and underneath it said "Future plan coming soon."
I then decided to do the same but clicked on the Moto X photo and this said, "This device will be upgraded to KitKat (Android 4.4)."
We took a look at all the carriers and found that the Moto X, Droid Ultra, Droid Maxx and Droid Mini are all getting the new Android 4.4 KitKat update. We have no idea when these devices will be getting the update, but at least we know it is coming soon.