Motorola Moto G specs and photo facade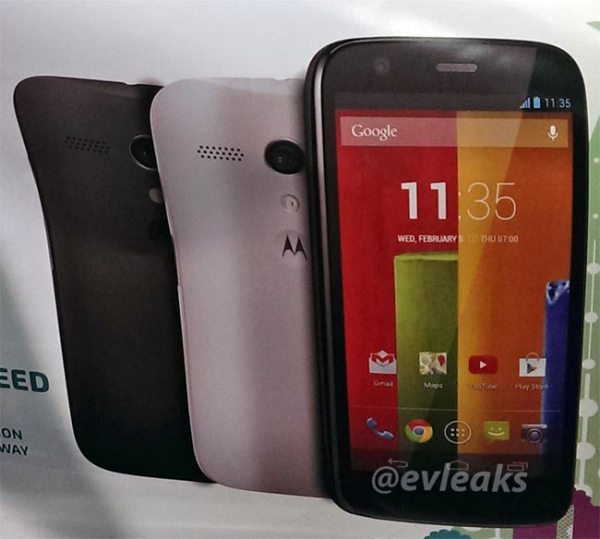 We reported last week that the Motorola DVX could indeed be the Motorola Moto G, and it looks like this could all be true.
The new Motorola Moto G has made an appearance over on @evleaks on Google+, and thanks to them we can now share with you the Motorola Moto G specs and photo facade, we say facade because it shows the front and rear of the smartphone.
The Moto G specs are said to include a 4.7-inch HD display with full HD resolution of 1280 x 720 pixels, 1.5Ghz quad core Qualcomm Snapdragon S4 Pro processor looks likely, and will come with at least 1GB of RAM.
It will come in 8GB or 16GB of built in storage variants, it is not all-good news. It will probably release without Android 4.4 KitKat on board, and if the battery is only 1950 mAh we have to say that's to small.
@evleaks exact specs on Google+ say – 4.7-inch 720p, S4 Pro (1.5GHz x 4), LG-made 1950mAh, 8GB or 16GB and 8MP. The Motorola Moto G if the source is correct will release for free on contract.
Phones Review say that the Moto G specs are a little too light, this is surely going to be a mid-range smartphone. Do you like the sound of the new Motorola Moto G smartphone?