iPad Air video comparison conveys size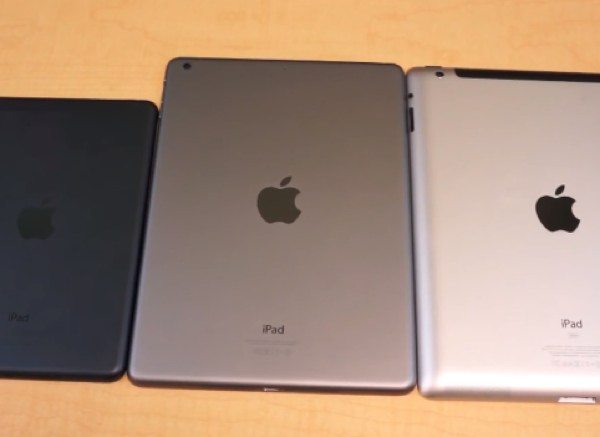 The Apple iPad Air tablet arrived for waiting customers last week, and many people will be heading out over the next few days and weeks to purchase one. If you're ordering one online though then it can be difficult to assess the size of a device. With this in mind we have an iPad Air video comparison that conveys the size very well.
The iPad Air is famously lighter and slimmer than its predecessor and in fact the weight of the device has been slashed to only 1 pound (465g) for the Wi-Fi version of 1.05 pounds (478g) for the Wi-Fi + Cellular option. Dimensions of the iPad Air are 9.4-inches x 6.6-inches x 0.29-inches (240mm x 169.5mm x 7.5mm).
It's all very well giving the measurements of a device, but sometimes it can be easier to show a comparison with other devices to get a clearer picture. The 3-minute YouTube video below this story shows a size comparison of the iPad Air against other devices.
It begins with pointing out that the iPad Air is 28% lighter, 20% thinner and 3/4-inch narrower than the iPad 4. It then shows the iPad mini, iPad Air and iPad 3, giving a really good look at just how much thinner and narrower it is.
The video also shows the iPad Air next to other popular tablets such as the Samsung-built Google Nexus 10, Sony Xperia Tablet Z, and then the Samsung Galaxy Note 10.1 2014 edition, the latter being noticeable similar in size.
It then shows the iPad Air compared with a variety of smaller Android tablets, the iPhone 5, and Samsung Galaxy Note 3 smartphone. We have to say this is a very comprehensive size comparison as it concludes with a look at the iPad Air next to non-tech items.
It's pretty obvious that one of the major draws of the new iPad Air is its smaller and lighter form factor, and if you're wondering about the size of the iPad Air then this video could be extremely useful to you.
Why not check it out the video below this story and let us have your comments. Has this convinced you that the iPad Air will be your next tablet buy?