Nokia Lumia 2520 Verizon price deal saves $100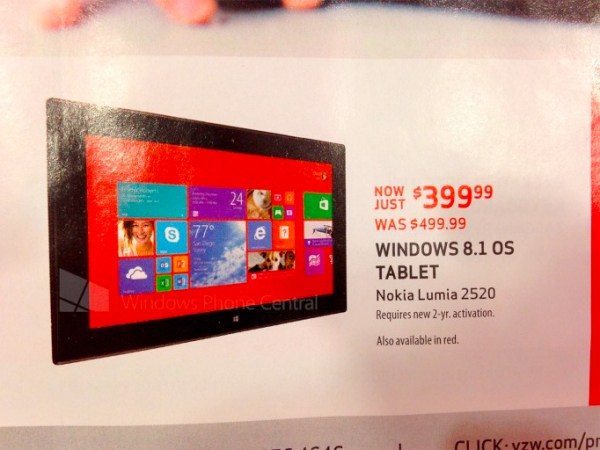 The Nokia Lumia 2520 tablet was recently officially announced and is the first tablet offering from the company. At that time we knew the device would come to AT&T, but we now know that it will also be offered by Verizon. What's more, it looks as though a Nokia Lumia 2520 Verizon price deal will save you $100 on Black Friday.
When the Lumia 2520 LTE tablet was unveiled, US pricing was confirmed at $499.99 with the Nokia Power Keyboard accessory priced at $149. This Windows RT 8.1 tablet is a good-looking device with decent specs and is earning a lot of praise from those who've managed to get a hands-on experience already, so it's likely to make it onto plenty of holiday wish lists.
The Lumia 2520 is set to release in Q4, with a possible date of November 22 being mentioned. That's a week before Black Friday, but if these leaked price details are genuine then it might be worth waiting until November 29.
The Lumia 2520 is to sell on Verizon and AT&T for $499.99 but leaked documents showing Verizon Black Friday deals pegs the tablet as $399.99 on contract. That's a whopping saving by anybody's standards.
The image of the Lumia 2520 price deal on Verizon is shown below. However, it's worth pointing out that somebody appears to have made an error, as it details Windows 8.1 as the operating system of the tablet rather than Windows RT 8.1.
Are you intending to purchase the Lumia 2520 on Verizon or AT&T? Will you take advantage of this Black Friday Verizon deal, or are you hoping that AT&T also announces a similar offer? Let us have your comments.
Source: WPCentral