Galaxy Note 3 Phones 4U buy gets free Samsung Gear watch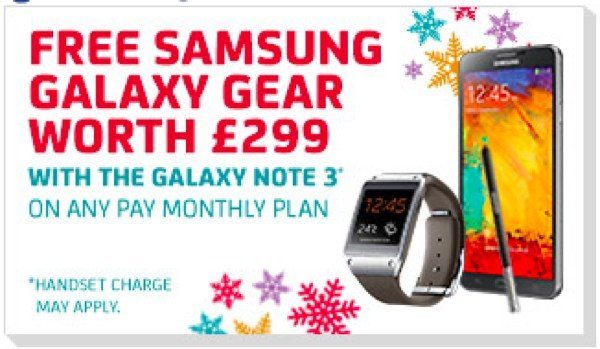 The Samsung Galaxy Note 3 smartphone and Samsung Galaxy Gear smartwatch released at the same time, and the Note 3 is a big success. The price of the Galaxy Gear watch has been seen as a stumbling block though. However, at present a Galaxy Note 3 buy from Phones 4u in the UK will get you a free Samsung Gear watch.
Although the Galaxy Note 3 has seen wide acclaim, the same cannot be said for the Galaxy Gear smartwatch, a wearable technology companion device. The Galaxy Gear usually has a price tag of £299 and has had a mixed reception to say the least.
Some people may have been wary of splashing the cash on a new device they are unfamiliar with, and the popularity of the Galaxy Gear watch has not been what Samsung would have hoped for. That's where this Phones 4u promotion will come in handy. It started yesterday and will run through until Thursday November 14th.
The offer of the free Samsung Galaxy Gear applies only to customers who buy the Galaxy Note 3 on contract from a Phones 4 u retail store (excludes Dixons and online). If you were thinking of buying the Galaxy Note 3 anyway then this is a deal you might want to take advantage of.
At the same time Phones 4u is offering a free Galaxy S4 Zoom accessory pack to those who buy the Galaxy S4 Zoom cameraphone from its stores or at Phones 4u online before the end of this year. The free pack consists of a tripod, charging unit, and flip case.
There aren't many of us who don't enjoy something that's free, so these offers might be worth considering. Are you going to head to Phones 4u to take advantage of this promotion for the free Galaxy Gear with a purchase of the Samsung Galaxy Note 3?
Source: Android Central