Samsung Galaxy Note 3 Mugen Power extended battery orders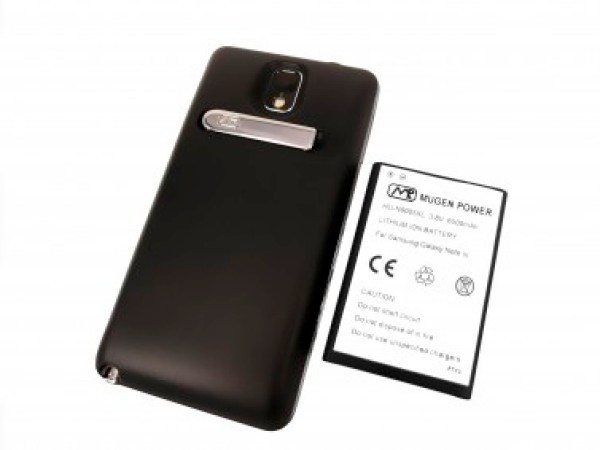 We always try to keep readers in the know about good accessories for their smartphones and tablets, and if you have the Samsung Galaxy Note 3 then this news might interest you. Mugen Power has an excellent name when it comes to extended batteries for devices, and the Samsung Galaxy Note 3 Mugen Power 6500 mAh extended battery can now be ordered.
The Galaxy Note 3 already packs a 3200 mAh battery offering an excellent battery life, but some users of this much-admired phone might require even more juice. Mugen claims that its new 6500 mAh battery will extend the battery life of the Galaxy Note 3 by up to 2.03 times.
This Galaxy Note 3 accessory would be a great boon to many who are heavy users of their phones, or those who are always on the go. Therefore this could be a great Christmas gift idea for someone you know, or simply treat yourself!
The Mugen Power 6500 mAh extended battery for the Samsung Galaxy Note 3 includes an add-on battery door so that the higher-capacity battery will still fit. Of course this will add bulk but those who need the extra battery life are not likely to complain. The battery door comes in black or white.
The price of this Galaxy Note 3 6500 mAh Mugen Power Extended Battery is $98.50 with free worldwide shipping as a nice bonus. You can see more about this Galaxy Note 3 accessory or order it at the MugenPower product page here. Shipping begins on December 6.
Do you own the Samsung Galaxy Note 3? If so, do you find the included battery adequate for your needs, or would you appreciate the extra battery life that this Mugen Power extended battery offers?