Nexus 5 vs HTC One, a narrow winner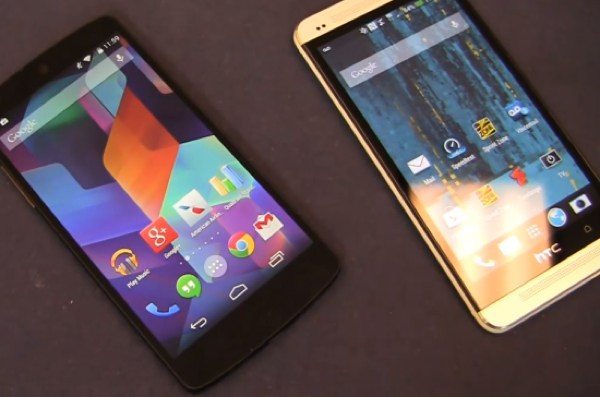 The new Google Nexus 5 made by LG is another big hit already in the Google Nexus lineup of devices. One of the phones that it will be competing against is the very popular flagship HTC One that released earlier in the year. If you're considering either of these smartphones then you might want to check out a Nexus 5 vs. HTC One video comparison that we think could be useful in this respect.
The Nexus 5 was first sold via the Google Play Store where it has been pretty difficult to get hold of one quickly since its recent release. It is now becoming available through other sources though, such as Sprint, T-Mobile and Best Buy, and hopefully supplies will pick up soon to cope with the demand.
Both of these are Android phones that will appeal to the same sector of the market, although the Nexus 5 may have more of an attraction to serious Android enthusiasts who like to customize their devices, as it runs pure vanilla Android. The HTC One has been hugely praised though, and if you have a smartphone choice to make right now then it could be difficult to know which is the best for you.
Below this story we have embedded two YouTube videos that total 20-minutes in length and compare these notable phones. The first video is the Nexus 5 vs. HTC One Part 1 and begins with looking at a spec rundown of each to give an initial impression of what they have to offer. The video then discusses availability and pricing and gives a tour of the hardware, before detailing the software.
The second video below continues the comparison with the Nexus 5 vs. HTC One Part 2 and starts with further details about the software of both phones before moving on to the camera set-ups. There's also a look at benchmark results and then battery life, before the final conclusion.
We won't give away which is judged to be the eventual winner, and we should remember that in many cases this comes down to personal preference and usage. We will say though, that the price points of both phones are an important factor and ultimately it's a very narrow win for one over the other.
If you check out the 2-part video comparison below this story we'd be interested to know if you agree with the final verdict so do let us have your comments. Which would you choose between the Nexus 5 and HTC One?