2013 Thanksgiving Day countdown apps for iPhone, Android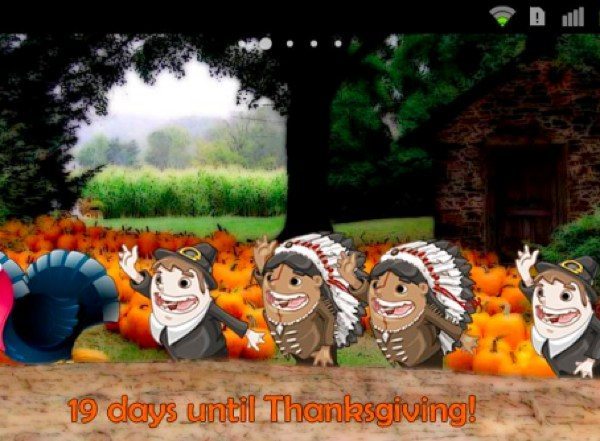 We are fast approaching Thanksgiving and in the US this is one of the most special holidays of the year. This is a day when families, friends and loved ones get together to make the most of the occasion. Today we have details of 2013 Thanksgiving Day Countdown apps for iPhone and Android devices, to heighten the anticipation.
This is a great idea for those looking forward to the big day, which this year takes place on November 28. You can see more or download any of these apps from the App Store or Google Play Store simply by clicking on the relevant title links.
First we have an Android app titled Holidays Countdown Pro from Wilson Studio. This is a highly rated app and provides countdowns for all sorts of holidays including Thanksgiving, Christmas, New Year's Day, Easter and many more. It offers an alarm and a widget and you can check a whole year's holiday calendar at a time for countdown timers, and next year's too! You can also add new holidays if required or a note to a holiday. This is a free app and compatible with devices running Android 1.6 or later.
A good iOS option is Holiday Countdown — w/Recurring Calendar Events from Energize Software. This offers a calendar of US holidays that you can combine with your own schedule of events and tasks. You can add holiday descriptions, import or export calendar events, receive alerts, and much more. This app enables users to view the holiday name, date, day of the week, icon and the number of days to the holiday for the following 29 upcoming US holidays. Users can also change the background image. This app is priced at $0.99 and is compatible with the iPhone, iPod touch and iPad running iOS 5.1 or later. Alternatively the Holiday Countdown Lite app is a free version of the above with fewer functions and for devices running iOS 4.1 or later.
Another Android app for counting down to the holidays is Thanksgiving Turkeys. This is a really fun app that offers Thanksgiving live wallpapers. You'll go turkey crazy as the turkeys try to stop the Pilgrims and Indians from baking pumpkin pie. The live wallpaper can be customized and users can choose to show a Thanksgiving countdown. This is a free app and it's compatible with devices running Android 2.1 or later.
Our final suggestion is another iOS app that will keep you happy for some time. The USA Holidays 2013 — 2017 Calendar and Events Countdown app is free and is compatible with the iPhone, iPod touch and iPad running iOS 7.0 or later. The app offers countdowns for every holiday with the option to add your own events. Holidays can also be imported to your iPhone and this is a good overall calendar app to keep you on track with all of the various US holidays, both major and minor.
Hopefully one of the above apps will suit your purposes and offer just what you're looking for in the lead up to Thanksgiving. We'll be back with more app suggestions for Thanksgiving including kids Thanksgiving activities and Thanksgiving recipes, so be sure to check back with us over the coming week or so.
Are you heading to the App Store or Google Play to download any of these Countdown apps? Let us know if you have any other good Thanksgiving countdown apps that you'd like to recommend.