Unlocked iPhone 5S arrives on Apple Store US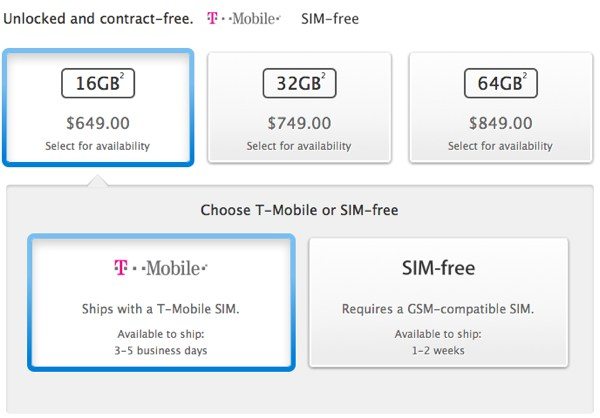 There's some excellent news today if you've been waiting for the Apple Store US to begin selling the unlocked iPhone 5S, as it's now available to order online. This comes several weeks after some regions were selling the iPhone 5S unlocked, but better late than never.
The iPhone 5S unlocked version offers exactly the same as the models sold on contract. This phone is for sale as a T-Mobile or SIM-free option that will work on AT&T US networks and also with other GSM networks worldwide. This is very useful for frequent travelers.
Many people prefer the option of purchasing a phone without having to be tied to a contract, so this has come just in time for the holiday season. The unlocked iPhone 5S is for sale in all of the usual color options, gold, silver or space gray.
It's available in 16, 32 or 64GB options of storage capacities with pricing at $649, $749, and $849 respectively. If you visit the online Apple Store US you'll see that if you order the T-Mobile option it will come with a pre-installed nano-SIM card. Alternatively you can order the SIM-free version although you'll need to buy a GSM-compatible nano-SIM card from T-Mobile or AT&T.
We've just checked with Apple online and currently the T-Mobile unlocked version is shipping in 3 to 5 days for all color options or storage models. The SIM-free option is shipping in 1 to 2 weeks for all varieties. Check out the details at the Apple Store here.
As the iPhone 5S is now selling unlocked on Apple online we can expect to see it available at Apple retail stores before too much longer. Have you been waiting for the unlocked iPhone 5S in the US? Send us your comments to let us know.