Nexus 4 Android 4.4 KitKat update for India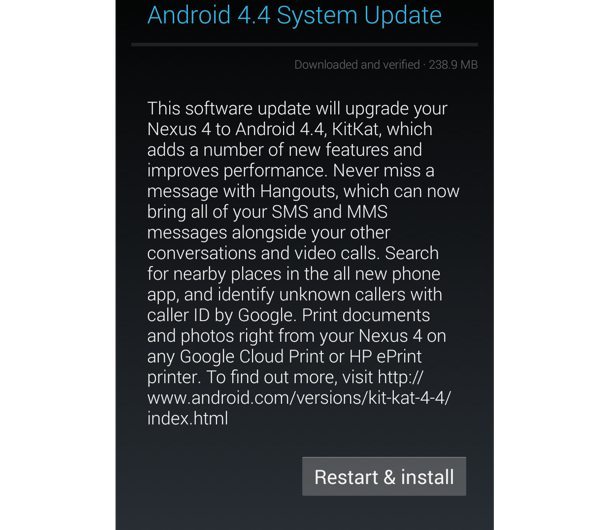 If you live in India and own the LG Nexus 4, you might be getting the Android 4.4 KitKat update right about now.
A Twitter user called @TheMananChawla has said that their Nexus 4 has received the new chocolate upgrade in India, this was and OTA update and the photo below that was also posted on Twitter shows more details on the upgrade.
The tweet itself said "This time it happened fast. Android 4.4 KitKat is on my #nexus4 #India."
The update comes in at 238.9, some of the new features users will expect will include: Ok Google command, Cloud Printing, new messaging features via Hangouts, Emoji emoticons, new dialer, KitKat introduces an immersive mode feature that hides the status bar and navigation buttons while you are indulged in an activity, better camera features and so much more.
We would like to hear from all those that own the LG Nexus 4 that live in India if they have received their Android 4.4 KitKat update yet, if you have please do let us know by visiting the comments below. It is important that we know so that we can report this to all other Phones Review readers, thanks all.
Have you received your Nexus 4 Android 4.4 KitKat update in India?