iPad Air dock accessory charges multiple iOS devices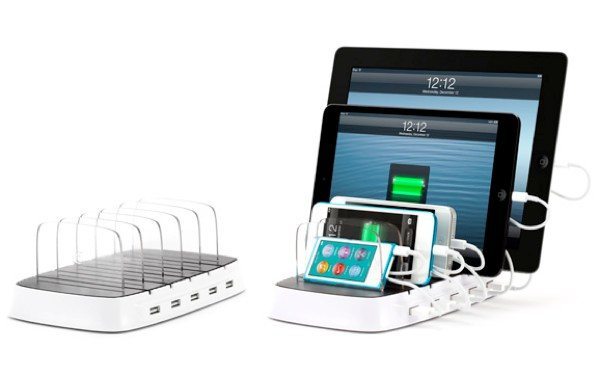 We're always digging around for good accessories for smartphones and tablets and if you have the new iPad Air or other iOS devices you may be interested in this next product. This iPad Air accessory charges multiple iOS devices at once, perfect for the busy family or at the workplace.
Many of you will have already purchased the iPad Air or have maybe added one to your holiday wish lists so this could be a good choice for you, especially if you have more than one iOS device. Alternatively this would be a great Christmas gift for families with various iOS devices.
The PowerDock 5 is a charging station that has a space-saving design to save cluttering up workspace. Users can charge up to 5 iPads, iPod touches or iPhones from a single power source, and it can even be used to charge iPads when they are still in their cases.
When your devices aren't actually charging the dock is still a good storage area for your tablets and phones, only taking up around as much room as one iPad. Each bay in the dock has a frosted backrest and a separate charging port and this charging station also has a rubberized base so it doesn't slide around.
The PowerDock 5 accessory is optimized for Apple iOS device but most Android and Kindle devices can also be used with it. Due to unique charging requirements of different devices, Griffin states that charging might take a bit longer than usual.
This is a great idea for your iPad Air, other iPads, iPhones etc., and the PowerDock 5 is available from Griffin here at a price of $99.99. We've also included a YouTube video showing the PowerDock 5 below this story for your convenience.
We'd like to know what you think of this charging dock accessory? Will you be buying the Griffin PowerDock 5 for your iPad Air or other iOS devices?