Motorola Moto G listed SIM free on UK retailer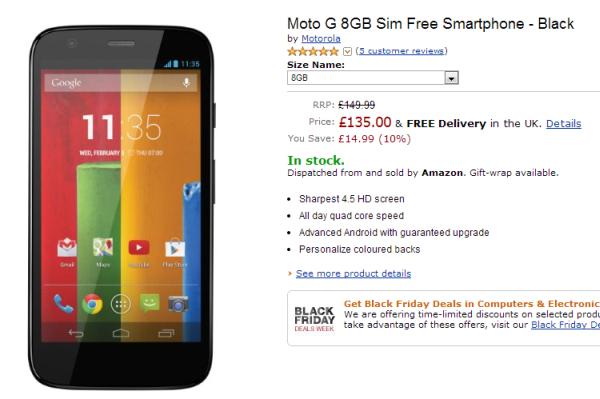 The more affordable smartphone market has recently been rocked with the official announcement of the Motorola Moto G, which offers some higher specs than other offerings but comes at a great price and now a UK retailer is listing the Moto G SIM free so no £10 top up required.
We have already heard how Phones 4u are stocking the handset and that Tesco Mobile are undercutting its rivals, but the Motorola Moto G is slowly being made available via other retailers. Now online giant Amazon has listed the 8GB version of the smartphone with immediate free delivery for £135.
This is for the device without the need of a pay as you go top up and will be able to be used on any network, but if you want the 16GB version of the Moto G this is listed at £159.99 but stock isn't expected until December 12th.
The price isn't bad when you consider that Clove want £148.80 for the 8GB version or £174 for the 16GB Moto G early next month, while Expansys only has the 8GB model listed at a whopping £159.99.
We have recently seen cases for the Motorola Moto G going up for sale with the handset proving hugely popular already selling out in some retailers. To recap the handset has a 4.5-inch 720p display with a pixel density of 326ppi with the 1.2GHz Snapdragon 400 quad core processor with 1GB of RAM under the hood.
There is also a 5-megapixel rear camera paired with a 1.3-megapixel front facer with the handset running Android 4.3 Jelly Bean but due for an upgrade to Android 4.4 KitKat early next year.
Have you already purchased the Motorola Moto G?