Qualcomm TOQ Android smartwatch pre-order and price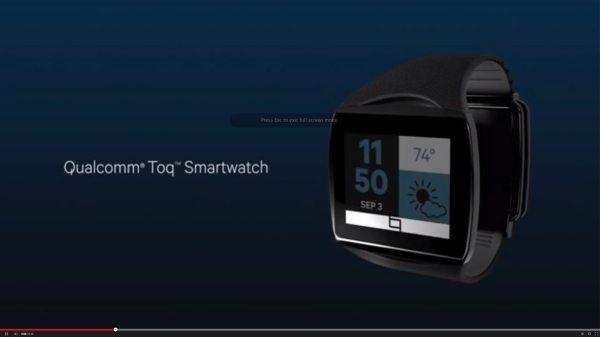 There are many new smart watches on the market such as the Samsung Galaxy Gear, but now it is time to move over for the Qualcomm TOQ Smartwatch. We heard about this a few months ago but decided to wait until we saw official information and its release, pre-order and of course price.
It has now been made official that the new Qualcomm TOQ Smartwatch is ready to pre-order, the watch will come in black or white but at the moment you can only pre-order the black variant as the white model has been marked as coming soon.
Qualcomm are now taking orders on the TOQ, the device is available to pre-order for $349.99, and Qualcomm have said the device will ship in one to three weeks. Looks like it will be released in time for Christmas, what a fantastic gift to receive if this was in your stocking.
The Qualcomm TOQ Smartwatch will work with any smartphone running Android 4.3 Jelly Bean and above, it has been reported that it will support devices running Android 4.0.3 upwards. It is very easy to read in the sunlight and will deliver alerts to your smartwatch from your smart device.
Specs include: 1.55-inch display, comes with a Qualcomm WiPower LE wireless charger, 240 mAh battery, Qualcomm Mirasol display technology, Bluetooth 3.0 and much more.
Please do visit the Qualcomm Store if you would like to pre-order your TOQ smartwatch in black.
What do you think about the Qualcomm TOQ Smartwatch?