Dell Venue 8 Pro review and desktop alternative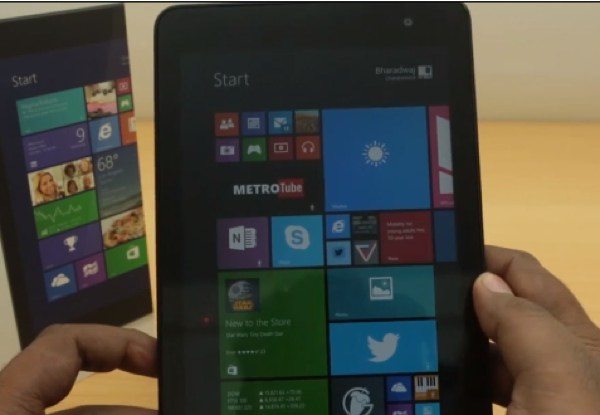 The Dell Venue 8 Pro tablet is likely to attract plenty of attention this holiday season. This device runs Windows 8.1 enabling users to run full Windows desktop applications, and today we have a Dell Venue 8 Pro review to show you, as well as some details on it being used as a desktop alternative.
The Dell Venue 8 Pro packs a 1.8GHz Intel Atom quad-core processor and has an 8-inch IPS display with resolution of 1280 x 800, 2GB of RAM and 32GB of internal storage. It also has a 5-megapixel rear camera and a 1.2-megapixel front-facing camera.
The 16-minute YouTube video below this story shows an unboxing as well as first impressions about the Dell Venue 8 Pro, offering an insight as to whether this could be the right tablet choice for you. As you might expect, the video begins with an unboxing of the device before we get to the nitty-gritty.
It goes on to look at the design and gives a hardware tour of the device running through many of the specs along the way. Build quality is described as excellent and the video continues with showing the set-up of the tablet and giving some interesting observations in the desktop mode.
Overall the initial impressions of the Venue 8 Pro are favorable with the display gaining real praise. Further to checking out this Dell Venue 8 Pro video we spotted an interesting Liliputing report that details how to use the tablet as a desktop alternative, and this is an aspect that may interest a lot of readers.
Can this Dell tablet offer the productivity of a desktop computer? That's what the second YouTube video below takes a look at, and there are some challenges to using the Venue 8 Pro in this way. These include the fact that the Venue 8 Pro only has one micro USB port, thus preventing charging and using a USB peripheral device simultaneously.
Also the tablet doesn't have a separate video out port. You can view the video below to see what Liluputing has to say about using the Venue 8 Pro as a desktop alternative, but ultimately there are some drawbacks such as the lack of a bundled keyboard and the smaller display.
When you've taken a look at the two videos below we'd be interested in hearing your opinions about the Dell Venue 8 Pro tablet. Does this tablet look an interesting proposition to you? Would you be tempted to try to use it as a desktop alternative?