LG G Flex phone benchmarks shown and compared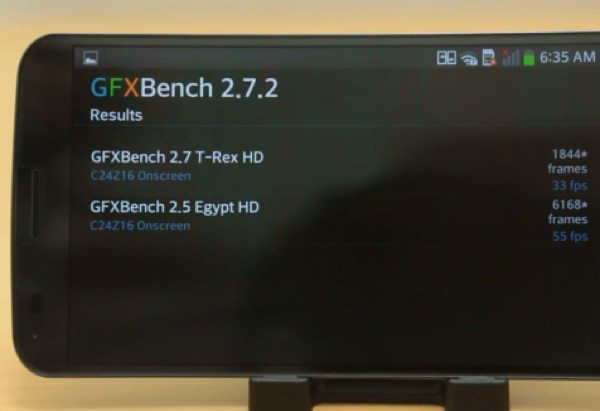 The LG G Flex smartphone has captured the attention of plenty of potential buyers because of its curved flexible design as well as some very decent specs. Today we have LG G Flex phone benchmarks as shown on a video and then compared with other leading smartphones.
We've posted plenty of information on the LG G Flex so far, but it's always interesting to see how a new device performs in benchmarks. For reference, the G Flex packs a 2.3GHz Snapdragon 800 quad-core processor with Adreno 330 graphics.
The 3-minute YouTube video below our story shows a variety of benchmark tests carried out on the LG G Flex. These tests are GFXBenchmark, NenaMark, Basemark X, AnTuTu, Vellamo, Quadrant Benchmark and Linpack. Results are shown for each test as you go, with a lineup of the results at the end of the video.
These LG G Flex benchmark scores have then been compared across many other top devices. Just some of the other smartphones shown in the results charts are the Samsung Galaxy Note 3, the LG Nexus 5, HTC One Max, LG G2 and Sony Xperia Z1.
In AnTuTu Benchmark 4 testing (shown above) the LG G Flex managed to grab top spot with the Samsung Galaxy Note 3 (both processor variants) and LG G2 not far behind. In most of the remaining tests the LG G Flex was very close to the top although there were some exceptions. In the NenaMark 2 test for example, it was closer to the bottom of the table.
For full results of each benchmark comparison please head to Fone Arena. Once you've checked out the video below we'd like to hear your thoughts on the benchmark performance of the LG G Flex. Are you impressed with how it fared?