HTC One vs Nokia Lumia 1020 camera samples compared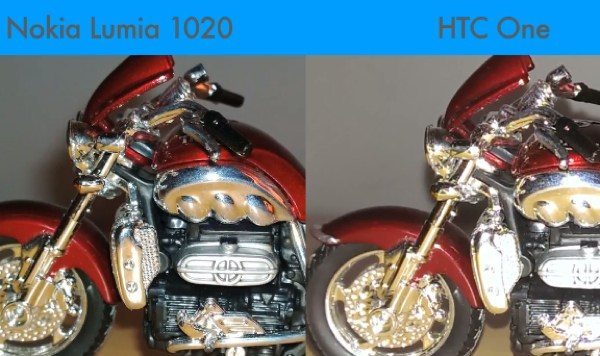 The HTC One and Nokia Lumia 1020 smartphones are both notable devices and ones that many people may be thinking of buying at the moment. Some buyers will be particularly interested in the camera capabilities of these phones and so we have a video to share that shows HTC One vs. Nokia Lumia 1020 camera samples compared.
One of the main differences between these two smartphones is that the HTC One is an Android device while the Nokia Lumia 1020 is a Windows Phone handset. Both have received plenty of praise and are worth of consideration as your next smartphone purchase.
As far as the camera set-ups are concerned the HTC One features a 4-megapixel UltraPixel camera with autofocus, optical image stabilization, LED flash and simultaneous HD and video recording. It's capable of 1080p @ 30fps video capture or 720p @ 60fps and also features video stabilization and HDR as well as a 2.1-megapixel front-facing camera.
Although the 4-megapixel count may sound low compared to most smartphone cameras, each pixel on the HTC UltraPixel camera is able to capture 300% more light that the average sensor on a smartphone. This improves the low-light condition performance.
On the other hand the Nokia Lumia 1020 has a whopping 41-megapixel rear camera with Carl Zeiss optics, optical image stabilization, Xenon and LED flash and PureView technology. It has 1080p video capture @30fps and 4x lossless digital zoom and a 1.2-megapixel front-facing camera.
The YouTube video that we've embedded for you below this story shows a variety of side-by-side image samples from both cameras, taken at the same position and in the same conditions. It also contains some brief video footage taken with the HTC One and Lumia 1020 alongside each other.
This will give you a good idea of how the results of each compare and which offers the better photography experience. We have our preference of which offers the best performance but we'd like to hear what you think.
In the results of these camera samples from the HTC One vs. Nokia Lumia 1020, which device comes out on top as far as you're concerned?