NORAD Santa Tracker app 2013 starts countdown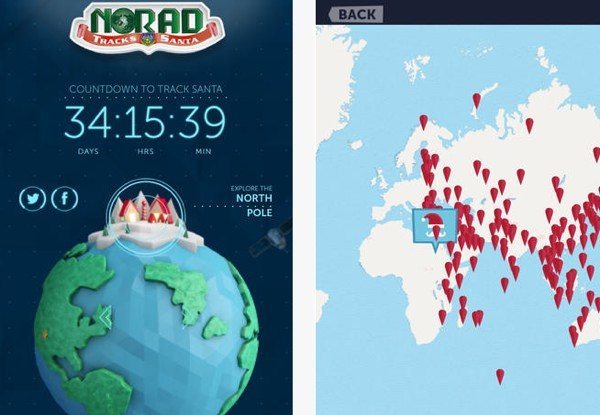 It's fast approaching Christmas and that can only mean one thing, the NORAD Santa Tracker app is ready to start the countdown to Santa's flight around the world. NORAD Tracks Santa is used by millions of people every year and the Android, Windows Phone, and iPhone apps have now received the 2013 update.
The Santa Tracker is a more modern tradition that's now just as much part of the festivities for many people as some of the older Christmas customs. Kids (and parents) love the activities and updates from the North Pole and of course tracking Santa once he starts delivering all the presents for Christmas.
The NORAD Tracks Santa app is the official NORAD app for mobiles and as well as providing a countdown to Santa's flight there are games such as Thin Ice and Elf Toss. The iOS version of NORAD Tracks Santa is free and available from iTunes here. It's compatible with iPhone, iPod touch and iPad running iOS 5.1 or later.
Alternatively the NORAD Tracks Santa app for Android is available from Google Play. This is also a free app and is compatible with devices running Android 4.0 or later. If you have a Windows Phone device the free NORAD Tracks Santa app is available from the Windows Phone Store.
The apps are all backed up by the official NORAD Tracks Santa website, which has been updated and improved for Christmas 2013. A new game to enjoy will appear every day in the run up to Christmas and the countdown as we write now shows 19 days, 23 hours, 11 minutes, 57, 58, 59, you get the idea!
We'd like to wish all of our readers a very merry Christmas and hope you'll enjoy the NORAD Tracks Santa apps. Will you be using the NORAD Santa Tracker 2013 for iOS, Android or Windows Phone devices?