Motorola Moto G vs Moto X in best value review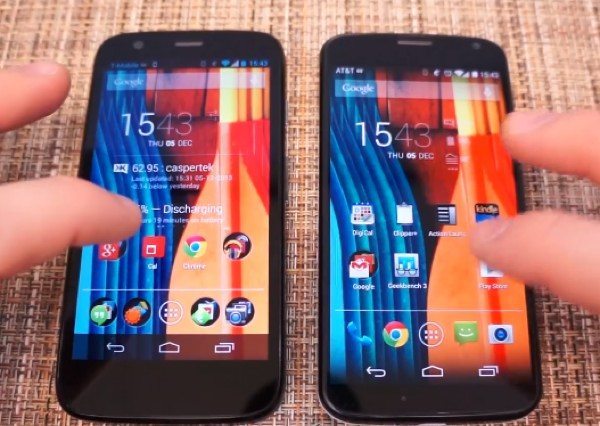 Two recent additions to the smartphone market are the Moto G and Moto X, both from Motorola. Rather than compete with other top-end devices that offer the very highest specs, both of these phones are aimed at offering a good user experience at an affordable price. Today we have a Motorola Moto G vs. Moto X review video that attempts to show which one offers the best value.
The Motorola Moto X was the first of these two phones to release and arrived back in the summer. The Moto G released last month in some regions, with more countries set to receive the handset over the next few months.
Although they may not exactly have groundbreaking specs they do offer decent specs and features and have a lot to recommend them. They are natural competition for each other and many readers might be considering purchasing one of these and wondering which to opt for.
The 8-minute YouTube video that we have embedded below our story comes from PocketNow and gives a good overview of the Moto G and Moto X. The video begins with showing the designs of the handsets and initially it's easy to see how similar they are, although some differences soon become apparent such as the additional weight and thickness of the Moto G.
The video goes on with a rundown on the key specs of each, at which point the differences become increasingly evident. Pricing is then discussed with the Moto G's low cost a big point in its favor. There's no doubt that the Moto X is the higher quality product but the quality of the Moto G is also impeccable considering it's priced at much less.
The video also discusses operating systems and features, and the differences between the two devices in this regard with benchmarks and performance compared. Battery life is also mentioned along with the camera set-ups and capabilities with neither impressing as far as camera performance is concerned.
Ultimately these are both modest smartphones but are good reliable options for those who don't want or need a top-end device. The Moto G is a good choice for those on a tighter budget while the Moto X is more expensive but also more well-rounded and judged to be worth the extra cost.
You can check out the video below to get the full story on these devices, and when you've taken a look we'd like to hear your comments. Were you already thinking of buying one of these two devices? Do you think it's worth spending more for the Moto X, or do you feel the Moto G has everything you need and the much-lower cost sways it?