Luxury iPad Air case with premium appeal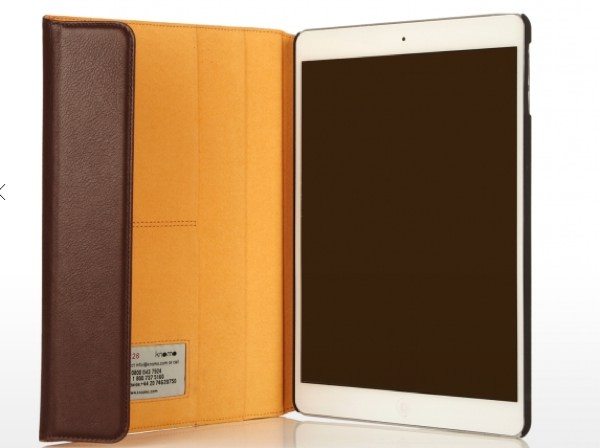 Plenty of wish lists will feature the new Apple iPad Air this Christmas, and if you already have one or are hoping for one as a gift you might also appreciate a good case. There's a massive variety of iPad Air accessories and today we're concentrating on something special, a luxury iPad Air case with a premium appeal.
The case we're giving you details of offers a stylish and sophisticated touch for your iPad Air. You might choose to treat yourself, or this would also make a wonderful gift for that special loved one. The Knomo iPad Air Premium Folio case is beautifully designed from top quality materials.
The Premium Folio iPad Air case offers good protection for your tablet. It's a form-fitted rubberized case with a full-grain leather and soft microfiber lining. It has a sleep/wake magnetic closure and can also be folded to use as a stand for you tablet with different viewing angles. The case also has interior pockets.
This case offers convenient access to the headphone jack and speaker and Knomo also provides a MyKnomo service. You'll find an ID number inside your case and if you lose it anyone who finds it can contact Knomo and give your unique code, at which point Knomo will retrieve the case and return it to you.
The Knomo iPad Air Premium Folio case comes in black or brown color options and is priced at £89. You can see more on this tablet or order it from Knomo here along with other stylish iPad Air cases and bags from the company.
It's also worth bearing in mind that many Knomo cases are also available in the US. Simply change the location at the top left of the page to see what's available for other regions. You might also like to check out our recent roundup of iLuv iPad Air cases or some beautiful iPad Air cases from Pad and Quill US.
If you decide to order the Knomo iPad Air Premium Folio case we'd like to hear your thoughts on your purchase. Let us know by sending your comments to us.