Samsung Galaxy Note 3 battery pack with whopping 10,000 mAh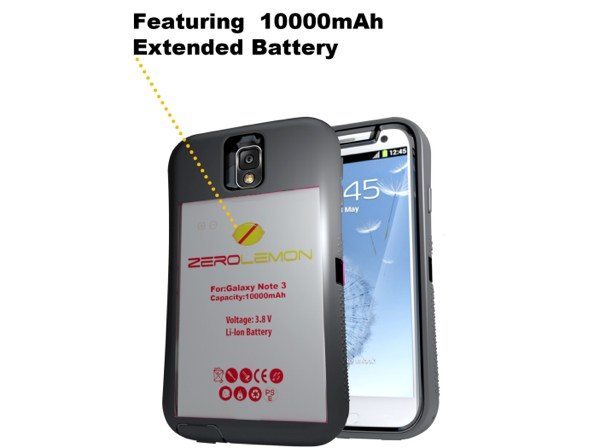 We often bring readers details of new accessories for smartphones and tablets and if you have the Samsung Galaxy Note 3 you might find this item interesting. Read on for details of a Samsung Galaxy Note 3 battery accessory from ZeroLemon that offers a whopping capacity of 10,000 mAh.
If you've always wanted more battery life for your device then this ZeroLemon extended battery pack could be the answer to your dreams. The company claims that this is the most powerful Galaxy Note 3 battery in the world and it also has NFC support.
For power users of the Galaxy Note 3 this extended battery means never having to worry about running out of juice for daily use as even with medium to heavy use it should last well over a day. The extended battery also comes with a universal fit case for the Samsung Galaxy Note 3, suitable for both slim and other extended batteries.
The case offers rugged protection with double-layer polycarbonate plus TPU protection and it has protective tabs for aspects such as headphone jack, stylus and microUSB. It has a built-in screen protector and buyers of this accessory also get a belt clip holster that can double-up as a multi-angle kickstand.
The price of the ZeroLemon Galaxy Note 3 Extended Battery Pack accessory is $59.99, which seems very reasonable considering everything it offer, and it's available to ship worldwide. If you want to find out more about this accessory head to this ZeroLemon product page.
Are you often concerned about your Galaxy Note 3 running out of power at just the wrong time? Maybe you've already decided to purchase this ZeroLemon Galaxy Note 3 battery accessory? Let us know with your comments.